6 Clever Camping Gadgets for Your Next Outdoor Adventure
Camping is an excellent way to break out of the stressful cycle of life. Making your own cozy makeshift home for the next few days, stargazing at night, or having a lively bonfire with your friends and family gives you an odd sense of comfort. Heading to a scenic campsite will help you unwind and connect with mother nature. To facilitate your outdoor excursion for a comfortable and enjoyable experience with your family, we have compiled some of the most ingenious camping essentials.
Solar Generators
Solar generators are a worthy investment for setting up your camp. They provide a renewable source for charging your phones and other devices to stay in contact with people back home. And they're incredibly useful for emergencies and for powering essential appliances like electric stoves or kettles. These generators are eco-friendly and portable as they use solar panels to gather energy from the sun and store it in a built-in battery.
Water Filter Straw
A water filter straw ensures you do not have to worry about running out of a clean drinking water supply, no matter where your camping trip takes you. Using the filter straw, you can directly drink from nearby streams. It eliminates all waterborne contaminants, bacteria, microplastics, and parasites from your drinking water.
Portable Coffee Maker
While on a relaxing trip to get more in touch with yourself, you do not have to forgo the things you love. A portable coffee maker conveniently lets you brew your morning coffee fuss-free. It can be compacted into a height of a mere 2 inches. It operates like a French press, allowing you to boil the water and steep the coffee. All you have to do is pour it into your cup to enjoy its relish taste.
Traveling Slow Cooker
You can go fancy and cook your favorite dishes on your camping excursion with the travel slow cooker. Being so lightweight with a built-in handle makes it so convenient and portable. Because of its air-tight sealing lid, you can cook on the go and carry your meals anywhere without the fear of spilling. Simply plug in your slow cooker and reheat your food when you reach your destination.
Portable Shower
Camping outdoors has never been this comfortable. With a portable shower, you can enjoy calming hot showers on your trips. This solar-heated shower uses the sun to heat up to 22 liters of water and can give you a full-pressure rinse for up to 10 minutes. It is portable and compacted into a small sack to fit your luggage. This versatile shower is an excellent camping gadget that you can use with an integrated hose and nozzle.
Mosquito Protectors
At the campsite, dealing with mosquitoes and insects can be quite a headache. New portable mosquito repellents in the market are highly functional and easy to use. With no flame or harmful chemicals, these energy-efficient and eco-friendly devices heat a pad soaked in natural insect repellent using a single butane cartridge, helping you eliminate pesky insects.
Endnote
As the events of our daily life become progressively more demanding, the rise in the popularity of camping is unsurprising. While it is essential to disconnect from the worries of the modern world to make the best of the experience, there is no reason not to use the innovative technologies and devices mentioned in this article to facilitate yourself on your adventures.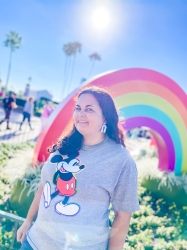 Latest posts by Krystal | Sunny Sweet Days
(see all)