Tips for Making Relocating to England from Florida Less Challenging
You might be wondering why anyone in their right mind would want to move from the land of sunshine to a temperate maritime climate. Although you are well acquainted with living in relatively humid conditions, you probably aren't ready to live in a part of the world that sees its fair share of cold weather and snow. Be that as it may, you have been offered a great job opportunity with the company you now work for, but it would mean committing to living life in the UK as an expat. If you are ready to take the plunge, here are some tips to make the move much less challenging.
It All Begins with the Visa
Of the almost 4 million expats living in the UK, approximately 137,000 are from the United States, so it can be done! However, some types of visas are difficult to get but a work visa is one of the easiest of all, especially if your company is putting you in charge of UK facilities.
You can check the UK government portal to see what kinds of visas are available and what it takes to qualify for them. If you intend to stay on a more permanent basis, one of the most important things you will need to prove is that you will be making a suitable amount of income. This shouldn't be too hard to document since your company is financing your move, and they will obviously pay you a decent wage.
Driving in the UK
While there is a great number of international drivers in the UK, you will most likely want to apply for a UK driver's licence at some point in time. There are requirements here as well, such as showing that you have been in the UK for at least the previous 185 days. Also, you will find that car insurance is mandated by law, so you will need to carry the right kind and adequate cover.
If you are uncertain how to price the various policies you will need, you can always check comparison rates on sites like Quotezone. Just remember that you will be looking for insurance for UK residents and not for international drivers if you've qualified for a UK resident driver's licence.
The King's English
There may be times when you ask yourself how you made it through life speaking English that isn't really English. Actually, most words are the same but when speaking the King's English, you will also need to understand that this is more for formal communications. Just like in the United States, there are regional dialects that you should become familiar with.
Also, they don't always have the same terms that we have in the States. For example, you might be wanting to use a restroom in a UK restaurant but in some areas, you'd call it a WC, water closet. The good news is that much of their programming on streaming media has made American English sound a bit less strange to them, so they can often understand what you mean even if they would use a different term for something.
UK Currency
Since 1 January 1999, the euro has been the currency of the European Union. However, the UK has never adopted this, choosing to stay with the Great British Pound, GBP. It may take some getting used to such things as pounds, pennies and so forth, but you will quickly be able to convert money with a currency conversion app for your cell phone.
Speaking of variations in terms as mentioned above, you are more likely to hear UK citizens refer to their cell phone as a mobile phone. Both are widely understood and refer to exactly the same thing, but it's just that they more often refer to their phones as mobile phones and not cell phones. Even so, whether you have an iPhone or an android, you can always find currency converter apps in their respective app stores.
Take Some Time to Explore
One of the best ways to familiarise yourself with your new country of residence is to take time to do some exploring. Even if your work requires you to spend an inordinate number of hours on the job in the beginning months, you should always plan for at least one road trip every few weeks. Travelling through England, Scotland and Wales shouldn't be too difficult because they are located on the same island.
You might need to ferry across to do a tour of Ireland, but that can wait if need be. Just be sure to get a feel for the culture in the UK. It can be quite similar to that of the United States, but there will be some recognisable differences as well. It may take time, but you will find it much less challenging if you take the time to explore both similarities and differences. It won't be long before you feel like a true native and that's what being an expat is all about.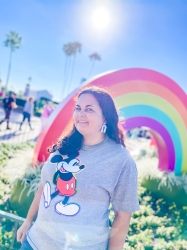 Latest posts by Krystal | Sunny Sweet Days
(see all)