The Main Benefits Of Traveling And Working
If you've ever considered traveling while staying gainfully employed, then the idea of a "working vacation" might be appealing. But what are the benefits of combining travel and work? In this blog post, we will explore how working while you travel can move your career and personal life forward in positive ways. Moving out of your comfort zone and having unique experiences is key to developing new skills while challenging yourself mentally, physically, and emotionally. Now is the perfect time to exploit these main benefits of traveling and working so that you can experience the incredible opportunities that lie ahead!
Step Out of Your Comfort Zone and Broaden Your Skillset
On the surface, the main benefit of traveling and working is obtaining an opportunity to see new places. But there are some deeper, lasting benefits gained if you challenge yourself to step outside your comfort zone. One notable example is developing a broader skillset, whether through learning a new language with locals or navigating complex cultural logistical matters without access to assistance from knowledgeable personal contacts. Although it can be uncomfortable at times, expanding one's worldview through taking on such challenges provides unique and invaluable experiences for self-improvement far beyond the physical boundaries of geographies.
Explore New Cultures and Expand Your Horizons
Exploring new cultures is a great way to expand your horizons and learn more about the world. When you travel and work, you will be exposed to a myriad of ways in which people around the globe live their lives and practice their faiths. Immersing yourself within different cultures allows you to get a feel for what life is like in another corner of the world. By engaging with locals, sampling the cuisine, and participating in other cultural activities, you can gain insight into what drives and motivates people from distant lands.
Taking the time to embrace new cultures through travel and work can be incredibly rewarding whether it's for a few days or for months at a time. Don't let yourself become confined by one point of view – explore new cultures and expand your knowledge!
Reasons Why Traveling While You Work Is Good For Your Mental Health
Not only will you get to experience stunning places and culture-rich experiences, but you'll also be doing wonders for your mental health. Traveling can help to clear a fogged head, remove yourself from stressful situations, increase concentration levels, and create growth opportunities. It also gives you time for self-reflection; when immersed in new environments, we intuitively question our behavior and allow change and adjustment without judgment from others. Working while traveling allows you to fund and direct your adventures in a way that traditional holidays just don't, so why not combine it with a job that will open up even more doors? Life's an adventure – seize yours.
Networking Opportunities on the Road
While traveling and working expands the mind and teach us life lessons, it also presents remarkable networking opportunities. You never know who you'll meet on any given day or in any particular locale. Whether you find yourself co-working in Barcelona or attending a tech event in Berlin, you may uncover hidden talent or leads for new projects. You may even apply for travel nursing jobs for registered nurses if you're in the medical field and gain the invaluable experience of providing patient care on a global scale while learning from the best.
Consequently, expanding your list of contacts and connections can often open up possibilities that had never even been considered before. While all traveler's experiences will differ, the opportunities for finding high-caliber individuals to help with career advancement are an undeniable plus of the nomadic life!
Relax, Refresh, and Recharge with a Change of Scenery
An exciting opportunity for work and travel awaits. Traveling and working unlocks the gates of adventure as you explore new corners of the world, and learn more about yourself. It's an ideal way to relax, refresh, and recharge from the doldrums of everyday life. Embrace a change of scenery by trading in your typical office cubicle for a stay in a distant country; embrace newfound freedom when you create an itinerary based on your desires instead of following someone else's schedule.
You get to enjoy the rewards of hard work while making memories that will last a lifetime – invest in yourself by taking time off to travel while keeping up with your career.
Taking time out of your everyday routine and experiencing something new is a great way to refresh your outlook on life. Traveling and working through the digital world will open up a universe of opportunities to uncover far-reaching vistas, write distant stories, connect with people previously unimaginable, and increase well-being while allowing great financial freedom. The main benefits of this travel lifestyle are the ability to step out of your comfort zone and broaden your skillset, unwind both physically and mentally, explore new cultures, gain professional connections with those you meet on the road, and recharge with a change of scenery. Above all else, focus on making the most of your travels to best enrich our lives for years to come!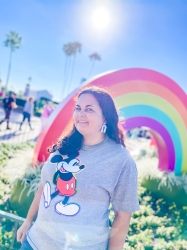 Latest posts by Krystal | Sunny Sweet Days
(see all)