How To Keep Personal Belongings Safe When You're Away From Home
Are you going away for a few days and worried about the safety of your personal belongings? Whether you are traveling for work, or vacationing with friends or family, there are steps you can take to ensure that your items remain secure while you are away from home. In this guide, we will discuss how to keep personal belongings safe when you're away from home. Keep on reading to learn more!
1. Invest in a Safe and Secure Storage Space
As valuable items such as jewelry, cash, and credit cards are easily misplaced or stolen, it is important to have a safe place to store them while you are away. Invest in a secure storage space that uses advanced locking systems and has fireproofing layers. This will help keep your belongings safe from burglars or other criminals. Furthermore, you can visit keepsafestorage.com.au, or other similar websites to learn exactly which types of services such businesses usually offer. That way, you can make sure to choose the right option for you.
2. Use Locks and Other Security Measures
If possible, it's best to use locks and other security devices to protect your personal belongings when you're away from home. This can be as simple as locking your suitcase with a combination lock or using a padlock on an external pocket.
You can also invest in more advanced security solutions such as biometric locks, digital safes, and even GPS tracking devices. If you're traveling with expensive items such as jewelry, electronics, cash, or other valuables, it's important to make sure those are secure and protected from theft.
3. Make Sure Your Valuables Are Insured
When you're away from home, it is always a good idea to make sure that your valuable items, such as jewelry and electronics, are insured. This will ensure that if anything happens, you can have peace of mind knowing that all of your important items are covered.
Even if you don't take them with you while traveling or leave them at home, you should still insure them. It is always better to be safe than sorry in situations like this. Make sure to check with your insurance provider for the best coverage and rates available.
4. Leave Sensitive Documents at Home
In addition to keeping valuable items safe, it is important to leave sensitive documents at home as well. Documents such as passports, birth certificates, and social security cards should remain in a secure location while you are away from home. If you must bring these documents with you on your trip, keep them in a secure place like a lockbox or hidden pocket of your luggage.
Additionally, be sure to keep them with you at all times and never leave them unattended in public areas. Finally, it is best to make digital copies of these documents before leaving home and store them on a secure cloud-based system or USB drive in the event that they are lost or stolen. This way, you will have access to them in the event of an emergency.
5. Keep Track of Your Belongings While Traveling
There is a certain degree of risk that comes with traveling, especially when it comes to losing personal belongings. It's important to take extra precautions when you're away from home to ensure your items are safe and secure. Here are some tips on how to do this:
• Always keep your valuable items close by – such as passports, wallets, cash, and other important documents – in a secure bag or pocket.
• Make sure to lock your luggage while in transit, as well as when you're staying at a hotel.
• Be aware of pickpockets by keeping an eye on your belongings at all times.
• If traveling with expensive items, consider buying a travel insurance policy to cover any potential losses.
• Make sure you have all necessary contact information, such as the address of your hotel and emergency contacts, written down somewhere in case of an emergency.
In the end, while it's impossible to completely eliminate the risk of theft when traveling, there are simple steps that can be taken to protect personal belongings. Firstly, make sure to keep valuables out of sight and store them securely in a safe or hidden place. Secondly, try not to advertise that you are away from home by leaving lights on timers or having someone pick up your mail.
Thirdly, be aware of the environment and stay alert when in public areas. Finally, ensure you always have a backup plan for any important documents or items should they ever go missing. Taking these simple steps can help to ensure that your personal belongings remain safe while traveling. Thanks for reading!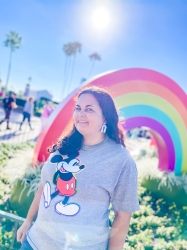 Latest posts by Krystal | Sunny Sweet Days
(see all)