We were thrilled to participate with Toy Insider's Sweet Suite. We received an awesome package that we are going to unbox with you. If you need toy ideas for gifts, look no further!
So, you need an idea for a children's gift?!
The Best Toys This Year
We learned a lot at the Sweet Suite event with Toy Insder. I wanted to share a few of our highlights!
The first-ever Sweet Suite@Home brings the fun & excitement of our annual BIGGEST Night of Play event in NYC to your laptops! This ultimate toy party gathers more than 50 kids' brands under one virtual roof. Media & influencers are invited to explore our interactive show floor where they'll meet with favorite brands, learn about the latest toy trends, and unleash their "kid at heart" through live toy demos, exclusive toy reveals, contests & more! The event is hosted by leading consumer toy publication and review site The Toy Insider and produced by Adventure Media and Events, LLC.
Adventure Academy is an educational massively multiplayer online game (MMO) for elementary- and middle-school-age children. It features thousands of enjoyable learning activities that are discovered in an interactive virtual world where the more you explore, the more you learn.
PLAYMOBIL® continues its exciting foray into licensing with a Warner Bros. Consumer Products Scooby-Doo line and celebrates the 35th anniversary of the timeless Universal Pictures and Amblin Entertainment classic, Back to the Future. Other new sets bring to life the world of construction play and new Advent calendar styles!
Blockaroo: magnetic foam builders
#UpsideDownChallenge Game: Wear these fun googles and see things…upside down!
Little Tikes: We loved this sweet pup that we could nurse back to health.
Pound Puppies Newborns: The original Pound Puppies are back with new authentic reproductions that look and feel just like everyone remembers!
Hatchimals
Play-Doh Elastic
GIF
Slinky
Blue's Clues plush: Just Play is a passionate toy company and global leader across a broad range of children's consumer goods including figures, playsets, dolls, plush, role-play and dress-up. They create unique and innovative proprietary lines, as well as award-winning products based on popular children's entertainment brands like Blue's Clues!
Pop-It Game: The never-ending popping game. It's a fun sensory experience.
FGTEEV: In 2019 Bonkers continued to shine in the influencer arena with the launch of the FGTeeV toy line based on one of YouTube's most entertaining, and highly viewed, gaming and family entertainment channels. 
Kodak Puzzle: CRA-Z-ART, based in Randolph, NJ, offers original, creative, exciting and trendy activity, toy, art and school supply products. The CRA-Z-ART management team has over 120 years of experience in creating, manufacturing and marketing stationery and activities products. At CRA-Z-ART we clearly, understand the needs of the retailer and the desires of our consumers. We make it a point daily to be….Always creative!  To learn more, please visit www.cra-z-art.com. You can find Kodak puzzles here too.
Stik Bot Toys
Gogo Gachas: RedwoodVentures continues to offer on-trend toys and crafts for kids. GoGo Gachas gets the party started with fashion-forward toy dispensing machines and the iconic Smooshy Mushy line will be making a return with ultra rare collectible sets. RedwoodVentures is also  re introducing their legacy item, Lil' FIshys, which is sure to make a splash! 
Crayola Project XL Poster Markers: Crayola LLC, based in Easton, Pa. and a subsidiary of Hallmark Cards, Incorporated, is the worldwide leader in children's creative expression products. Known for the iconic Crayola Crayon first introduced in 1903, the Crayola brand has grown into a portfolio of innovative art tools, crafting activities and creativity toys that offer children innovative new ways to use color to create everything imaginable. Consumers can find a wide array of Crayola products in the "Crayola Aisle" at all major retailers.  For more information visit www.crayola.com or join the community at www.facebook.com/crayola.
Goliath Games Dino Crunch: This is A FUN fast-paced game. Don't let the dino get those eggs! 😉
Playful Pandas: Playful Pandas are musical, magical, Pandorable friends with limitless responses. Kids can sing any song to their Panda and she'll sing back in her own Panda language! Playful Pandas come in four styles including Sweetie, Slumber, Foodie and Fashionista each with her own personality and signature song. And, when kids collect two or more Pandas they will sing in harmony. For even more fun, each Panda responds to a child's touch – tickle her belly, kiss her nose or pat her head and the Panda will laugh, move and respond! Playful Pandas come in four different styles for kids ages 4+.
Fubbles® Bubbles On- The- Go™ (MSRP $1.99 individual, 6pk $9.99, 12pk $14.99) Ages 3 & Up: Perfectly sized for convenience! Take our Fubbles® Bubbles On- the- Go™ to the park, party, airport or play date! This perfect pouch also fits nicely inside diaper bags, pocketbooks, travel bags and even baby strollers! Celebrating a birthday? – Pick up our 6 pk or 12 pk to fill your party-favor bags! There are four different bright, graphic styles and each individual pouch includes 3 fl. oz. of bubbles and a wand.  Available at Walgreens, Kohls, Meijer, BJs and on Amazon.
Roblox: My son LOVES collecting the Roblox characters.
Kid Trax Real Rigs: Kid Trax produces award winning battery powered ride-on toys. Our attention to detail, design and play features, have made us a top selling riding-toy brand for children around the world! Our brand continues to "drive fun" by pushing the levels of interactive play in the category. Partnering with licensors including Ford, Nickelodeon, Nerf and Disney, we are moving the industry forward through collaborative product innovation. There are so many exciting reasons to buy a Kid Trax ride-on. Learn more at www.kidtraxtoys.com.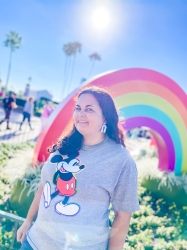 Latest posts by Krystal | Sunny Sweet Days
(see all)