How to Create New Habits With Your Family: Amazon Echo Dot Kids Edition
This post was sponsored by Amazon as part of an Ambassador Activation for Influence Central and all opinions expressed in my post are my own.
New year's resolutions aren't just for adults. It's important to make goals with every member of your family, including your littles! My son is at an age where everything excites him and he remembers everything. He is naturally curious and could ask you a dozen questions at a time. When we were creating our goals for the new year, we knew to include him and inspire his quest for knowledge. With our new Amazon Echo Dot Kids Edition, we could provide a tool to help everyone in our family be their best selves.
Our Amazon Echo Dot Kids Edition provides a service inside our home that lets our family work together to reach a common goal. It may be as simple as playing our favorite music to inspire us as we clean or it could be something like adding a reminder to our calendar, Alexa keeps us in check. You can interact with Alexa just by asking a question! Read the news, tell a joke, listen to music. Alexa makes YOUR life easier by using your voice to control your everyday tasks.
The Echo Dot Kids Edition is a kid-friendly device that uses Alexa with parental control. When you get the Echo Dot Kids Edition, you receive an Echo Dot, a year of FreeTime Unlimited, a case, and a 2-year worry-free guarantee.
How to Use Alexa to Help You Set Goals as a Family
Set reminders. This one is probably the simplest task that we use our Alexa for, but by setting reminders we can have a smooth schedule. I like to set reminders to create a homework to-do task and a chore checklist! My little one knows exactly what (and WHEN!) he has to do his afterschool tasks without any fuss.
Use timers. We use timers all the time when we cook with our Echo Dot, and now my son can use his Echo Dot Kids Edition to set timers for himself! From brushing his teeth to timing his reading, he knows exactly how much time is allotted for each task.
Make a list. Sometimes we have specific lists that we need to add to, and now my son can help out by adding what he needs too! He can add juice boxes or fruit snacks to our shopping list with his Echo Dot Kids Edition, and I have that peace of mind of knowing that nothing is forgotten on our next shopping trip.
Wake up to your favorite characters. My son has already discovered his favorite Disney playlist through the Echo Dot Kids Edition, and now he can wake up to Disney too! You can go to bed each night with Sleep Sounds and wake up entertained each morning with character alarms featuring Disney, Nickelodeon, and Cartoon Network.
Plus, bedtime is "automatic" since we have parental controls inside FreeTime which helps us set time limits for the day.
Read more. We can reach our personal goals of reading together more since FreeTime Unlimited on Alexa has over 1000 Audible kid's books! There is never a dull moment or an "I'm bored!" complaint. Simply reach out to Alexa and continue the next chapter of whatever book we are listening to.
Learn crazy facts. My son, as I said before, has a thirst for knowledge. Now he simply asks Alexa about the largest dinosaur ever or what was the first Disney movie. He is constantly satisfying his desire to learn more about the world around him, and I fully support this!
Learn more about Amazon Kids and Family on Facebook and Instagram. 
Activities For Kids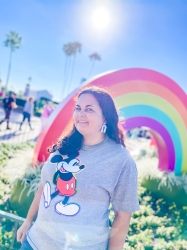 Latest posts by Krystal | Sunny Sweet Days
(see all)