Steps To Take When Starting The Search For A New Home
Buying a house is an incredibly exciting prospect, but it can be stressful. If you've decided that it's time to relocate, or you need a bigger house, here are some steps to take when starting the search for a new home.
Choosing a location
Before you start trawling listings and contacting real estate agencies, it's beneficial to establish a search area. You might already know exactly where you want to live, but if you're unsure, take some time to research different neighborhoods, get to know the areas on your shortlist and weigh up the pros and cons. Once you've chosen your number one location, you can decide how far you want to stretch the boundaries. If you're trying to buy in a sought-after suburb, or properties are in demand, it may be worth considering nearby neighborhoods, which may be a little cheaper.
Setting your budget
The next step to take is setting your budget. Many of us are guilty of scrolling through online galleries, daydreaming about properties we could never afford. While there's nothing wrong with being ambitious, it is a good idea to have a maximum budget in mind before you start your search. This will enable you to filter out houses that don't meet the criteria and prevent you from falling in love with a home that is out of your price range. Use mortgage calculators and seek expert advice to see how much you could borrow. It's crucial to make sure that you're not stretching yourself too far. You don't want to buy a house that you love if it means worrying about money for the next 20, 30 or 40 years.
Contacting local agents
You know where you want to look for your new home and how much you want to spend. Now, it's time to enlist the help of a buyers agent and contact local experts to see what is out there. Think about what matters most to you and write a list of essentials and things you're willing to compromise on or forgo. This will help you find properties that match your requirements. Try to be open-minded and consider different styles. You may be surprised at how you feel when you view different types of properties. If you love modern decor, for example, you might have ruled out traditional homes, but it's worth organizing viewings if properties cross most of the boxes. You might go into an older house and find that you change your mind.
Signing up for alerts
Many of us search for homes online now. If you're buying in a hot spot, and demand outweighs supply, you'll need to act fast. Signing up for new property alerts is a great way to learn about houses that have only just come onto the market. If you like the look of a house you get an alert about, you can try to arrange a viewing before the crowds descend.
Arranging viewings
Viewing a house is very different from seeing a set of photographs in a gallery or taking a virtual tour. Use the viewing to get a feel for the house and to gauge how well it would work for your family. Many of us experience a feeling when we walk into a house we've not been to before. This can either be negative or positive. Use your instinct and intuition and don't be afraid to ask questions, to inspect rooms closely and to organize more appointments if you need more time to make your decision. A second viewing is often a lot more informative than the first and it can help to ensure that you use both your heart and your head.
Considering offers
Unless you're in a situation where you need to move rapidly to secure a home that is in demand, it's wise to take your time to consider your offer and make sure that the numbers add up. If the property has been on the market for some time, or the owners are keen to sell quickly, there may be room for negotiation. It's worth going in under the asking price. If the offer is rejected, you can increase the figure. If you do need to move fast and you can afford the asking price, talk to the agent and consider going straight in with an asking price offer to take the house off the market. This could help you to avoid getting into a bidding war.
Searching for a new home is exciting, but it can be stressful, and often, there are highs and lows along the way. If you've decided to move, take these tips on board to reduce stress and maximize your chances of finding the perfect new home.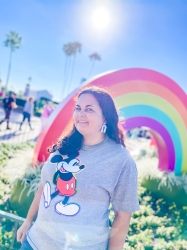 Latest posts by Krystal | Sunny Sweet Days
(see all)