6 Creative Ways to Arrange Food
Finding fun and exciting ways to serve food is part of the fun of cooking up a big meal for a party and hosting friends and family. Half the enjoyment comes from getting creative and being able to wow your guests with fresh spins on serving the food.
When it comes to arranging your food, there is a bevy of options available. With so many options out there, you need a good place to start when you get to arrange your food for whenever your next gathering occurs. Here are 6 creative ways to get started.
1. Bouquet of Food
When it comes to arrangements, a bouquet is one way that is sure to impress. This is not easy to do, but the results are spectacular. With the use of meat, fruits, vegetables, and desserts, you can craft an interesting and eye-catching arrangement. Even if you are not the handiest when it comes to arranging and sculpting your foods, there are gifts from ManlyManCo.com that can help you get ready for your hosting event. Setting this out for your guests, or even just providing it as a gift would make for a very memorable food arrangement.
2. Edible Sculpture
In a similar manner to a bouquet arrangement, food sculptures prove to be a very intricate but flashy way to show off some cool food styles. Food sculptures are not easy to make, but there are plenty of resources to walk you through how to make one. The simplest way to do it is by making it flat to the serving tray, but as you get better, you can start making it more spectacular in a 3D fashion. This is really fun for shaping food in a tray or making baked goods in the form of a character, which could be a special treat for a kid's birthday party.
3. Nacho Table
Everyone loves a good Mexican food night and one of the staples is a hefty serving of nachos. Instead of sticking with the traditional tray of tortilla chips, get creative, and make it a more extra and interactive experience. Turning your entire dinner table into the serving tray is not an expected way of getting everyone involved in the fun, but it is really cool nonetheless. You cover your table in aluminum foil to avoid getting it messy, then serve the nachos on top. This helps keep the mess of dishes down but lets everyone have fun. Place guacamole, sour cream, and salsa dip in bowls in the middle and dig in.
4. Charcuterie Board
Charcuterie boards have always been a fun way to layout a specially crafted arrangement of finger foods. Olives, grapes, assorted cheese and crackers, dips, and meats are the biggest stars here but you can get more creative than that. The best way to make a charcuterie board more fun is to make it more interactive, just like the nacho table idea. A rotating board that contains a themed assortment of foods, from Mexican to French to Chinese and so much more, can make a normal charcuterie serving into so much more.
5. Multi-Layer Buffet
Buffets allow people to serve themselves which takes a lot of the hosting burden off of you. The only problem is that buffets cause lineups and people have to shuffle around until they get to what they want. The solution? Make it multi-layered. Taking a tiered serving platform approach allows you to put out more food and gives people more flexibility to pick out what they want from the buffet offerings. This helps clear up those bottlenecks and lets everyone fill their plates. Plus, you can make entire stacks of these serving trays that hold the different portions like desserts, entrees, and appetizers to streamline what goes where in the buffet order.
6. Carved Out Fruit Dish
The last creative way to arrange food is one that is going to get your hands messy but is definitely worth the effort. Carving out a fruit dish to serve that very fruit, along with other foods, is fun and simple. The bigger the fruit, the better the results so a go-to for a fruit dish is carving out a watermelon to fit berries, bananas, watermelon pieces, and mango chunks, or whatever you want. Pineapples also work well, and for a festive option, a pumpkin for next Halloween can double as a serving arrangement.
Part of the fun of cooking is planning how to serve the food. This is especially true when you are hosting, so you want to be unique with it. Using these 6 creative ways to arrange your food, you will guarantee to impress your guests.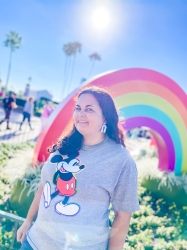 Latest posts by Krystal | Sunny Sweet Days
(see all)