Spring Cleaning Tips: 10 Things You Might Miss!
Spring cleaning is a ritual in many households, and it is so important to have a plan! If your home is multi-level or has additional rooms for storage space (or a hidden office!), it is possible that you might miss some of these MUST CLEAN places. Keep reading for these tips to make sure you don't miss ONE spot in your quest for a clean house for spring.
10 Things You Might Forget to Clean
When you're in a hurry, you might overlook these spots in your home that need the most attention! You will feel so much more refreshed when your home is completely clean (especially after a good floor clean), and these suggestions will help you remember what needs work. Make sure to mark these items off as you clean this spring!
PLUS, there's a free printable download to keep you on track!
1. Ceiling Fans. Our ceiling fans are almost ALWAYS on, so when we do turn them off…we are VERY surprised to see what is on the ceiling fan blades! Don't forget to dust and disinfect your ceiling fans.
2. Baseboards. We clean the floors often, we clean the walls when necessary…but what about the baseboards? These can get very dirty quickly, so it's important to not neglect them.
3. Appliances. From the microwave to the dishwasher, your appliances need a little love too. Wipe down all your appliances and also clean the INSIDE too. You can wipe down the inside of your microwave and your dishwasher. Don't forget your refrigerator and disinfect the meat and vegetable drawers too.
4. Your coffee machine. Whether you have a single use machine or one that brews an entire pot, coffee makers need love too. Consider cleaning the machine and brewing a few empty batches to clean out the insides too.
5. Your front door. Did you ever think that your guests might notice that your front door is weathered or dingy with dirt? You can use your mop to give it a good wipe down!

6. Your garage floor. You spend a lot of time keeping your floors clean inside your home, but what about your garage? It's almost our forgotten spare room for storage and laundry, so every so often it's definitely important to clear it out so we can mop the floor in the garage too.
7. Bookcases. Books can collect dust, so give them a good cleaning every so often. Wipe down knick knacks too.
8. Your mattress. I'm sure we all change our sheets regularly, but do you really "clean" your mattress? Use a disinfecting spray and a fabric refresher to make it clean and fresh.
9. Cabinet doors. Wipe down the doors on all your cabinets. You'll never know what kind of gunk is hiding in those nooks and crannies.
10. Front porch. Our front porch is actually tile, and we neglect to mop it! I recently realized that a few weeks ago.
Spring Cleaning Printable
So, spill. What part of your house gets forgotten about? Where do you need to clean? Don't forget to try vinegar for cleaning too!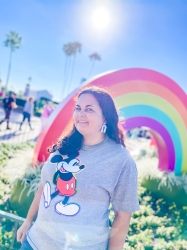 Latest posts by Krystal | Sunny Sweet Days
(see all)