Keep in Touch With Friends: Birthday Printable
I'm no stranger to moving even though I've never left the state of Florida. From switching schools in third grade to starting a new high school in another county, I felt like I bounced around much of my childhood. I started college, moved home, and have had friends come and go. Though, if you can believe it, I'm still friends with some of my elementary school peers. I met one of my best friends in sixth grade. I keep in touch with college friends and plan vacations together when we can. It's amazing how technology has helped us continue our friendships, and I truly consider them to be my lifelong friends.

There are several ways to keep in touch with faraway friends now, but these are my five favorite tips. One of my new year's resolutions is to make a better effort at staying in touch with old friends, and to create new memories with some of my favorite people.
1. Peach. This is an app for your smartphone that lets you send silly messages to your friends and family.
2. Snail mail. An easy way to connect with friends is to send thoughtful cards in the mail to let them know you're thinking of them. A handwritten note goes a long way!
Keep an address book updated so you never have to ask for their address before you send a sweet surprise!
3. Birthday greetings. Whether you do a video with Intel Pocket Avatars, a paper or digital birthday card, or some other method, remembering birthdays is a great way to stay in touch with old friends. Go beyond saying "Happy Birthday" on someone's social media profile wall and offer an authentic message.
Need help remembering special dates? Use a cute printable to display in your home office, on your refrigerator, or keep a digital copy on your desktop. Download this free birthday calendar to get started!

4. Random Acts of Kindness. Whether you surprise a friend with a small gift or a membership to their favorite website, random acts of kindness can go a long way! Show someone you care with a gesture that is both thoughtful and useful. Or, work together with your friends to create a random acts of kindness campaign. February 17th is Random Acts of Kindness day, so you can plan in advance to make someone's day…randomly!
5. Plan a trip. Schedule time in your budget and your calendar for a vacation with friends. It doesn't have to be expensive or over the top, and a weekend away will do! I love planning weekends for friends to visit at my home since I have the room to host, and I am close to several beaches. (Hint, hint…any of my friends who are in need of sun + fun needs to come on down to Southwest Florida!). When you plan a trip in advance, you can score vacation discounts or make small payments toward the overall cost. Cruises are one way to put a down payment and make monthly payments.
How do you keep in touch with friends? 
Don't forget about these birthday freebies to celebrate too!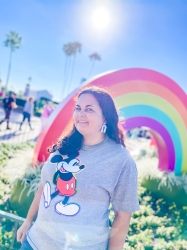 Latest posts by Krystal | Sunny Sweet Days
(see all)