How to Make a Perfect Sleeping Nook for Your Child
It can often feel like a reason for celebration when a child goes to bed smoothly and quickly. Parents are aware that when it comes to going to bed, kids frequently protest, delay, and whine. Therefore, it's time to reassess your overall bedtime strategy and the space where your child sleeps. Especially if you are one of those parents who struggle to put your child to sleep without counting to ten, two bathroom breaks, five extra hugs, and a glass of water.
Take a fresh look at the sleeping environment for your child as a great place to start. Your efforts to give your child a comfortable physical and emotional environment significantly impact their capacity to calm their body and mind. Children will adore the creative design concept of a sleeping nook. Also, this gives the impression of extra space in a small room. Here are just some ideas to make a perfect sleeping nook for your child.
What Do You Need to Make a Perfect Sleeping Nook?
First, you need to identify a perfect spot for your kid's sleeping nook. Keep in mind that all kids love to hide in the closet. So, if you have an old closet, maybe it is time to find him a new use. On the other hand, if this is not the option a quiet corner will do the work.
You will need a little paint. Depending on your wishes probably an upholstered floating bench seat (if we are reusing the closet). Some comfy mattresses for the bench, if you need help with choosing the perfect one take a look here, and you will have the perfect bed. Some pillows and lighting. Also, don't forget about a curtain, it's a good idea because everyone loves privacy and it will keep morning soon away.
Select a Color Scheme
Color choice will greatly impact the ambiance of your kid's sleeping nook. So be wise to choose colors that will help your kid to achieve that peaceful feeling. Use decorations that encourage mellow and peaceful emotions. But always try to respect the wishes of your kid.
Generally speaking, lighter hues like blues, pinks, whites, and grays can help you focus and reduce tension. If you go with white and gray, you could want to add a splash of color with colored artwork or colored lighting. By doing this, you add a decorative layer that warms up your kid's room.
Get the right lighting
The appropriate lighting can be a good spice to the sleeping nook's atmosphere and functionality, and a sleeping nook should be adaptable. If your kid likes to read books, get task lighting like a reading lamp. If the sleeping nook is next to a window, it might be able to use natural light until the day is through and the sun sets.
To make the environment enjoyable and unique, you can add additional ornamental lighting, such as laser lights. Galaxy projector is a fantastic illustration of tranquil comfortable sleeping nook illumination. In this way, the nook might become the kid's galaxy with vibrantly colored drifting nebula clouds and beautiful laser stars thanks to this laser light. The projector of the northern lights atmosphere will guide your child into sweet dreams easily.
Be Creative
Never forget that you are making a sleeping nook for your child. So maybe it won't look like the one you see in the magazines but that is a point. Include your kid in the process too, because this is the only way to get the unique personal touch. There are many things that affect our sleeping, and when it comes to children you can dabble them.
Eventually, this sleeping nook should be a reflection of everything that your kid loves and enjoys. A sleeping nook should be a gate to a dream world and a quick escape from the real world. Consider adding the things that make your child smile and make your child happy. If your child feels comfortable, you can't go wrong. It should be comfortable enough that your child wants to return to it and even dream about spending the day there.
Bonus
One more thing if you want your child to truly feel like is on cloud nine, fill your kid's sleeping nook with soft materials. Soft materials extend beyond cushions; include items with soft exterior surfaces. And don't forget the pillows.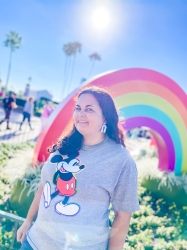 Latest posts by Krystal | Sunny Sweet Days
(see all)