Singapore on a Shoestring
Singapore is renowned for being the world's most expensive city, but you shouldn't let that stop you from paying a visit to this amazing place because you know what? It really is possible to see Singapore on a shoestring. Here's how:
Rent a room
Instead of staying at one of the city's expensive hotels, rent a room Singapore instead. Singapore is brimming with rooms and apartments to rent and you can often get a better deal by doing so than you would staying in one of the bigger hotels the city has to offer. After all, there's so much to see and do that where you lay your head at night isn't all that important.
Buy a EZ-LINK Card
Singapore's transportation card really is one of the best in the world. Singapore may be expensive, but if you have this card in your pocket, you'll be able to travel extensively from the National Gallery Singapore to Universal Studios Singapore, see all of the attractions you want and not have to spend more than a few dollars each day. Valid on trains and buses, it will get you wherever you need to be and you'll only ever pay for the distance you have traveled.
But don't get the Singapore Tourist Pass
Although the EZ-Link card is great value for money, the Singapore Tourist Pass for the average tourist is not worth the money, It costs you $20 per day, 10 of which is refundable when you return the card, but you will have to pay that even if you don't take that many journeys, which means it would often be cheaper just to pay for the journeys you take individually.
Food halls are your friend
If you're itching to sample the fragrant food of Singapore but you can't afford to eat out in expensive Michelin-star restaurants or budget-breaking bars and restaurants, head to the many food halls located in the city, where you will find simple, authentic dishes and street food that will blow you away. You can expect to pay as little as $4 for a decent food hall meal, or if you love noodle soup, even cheaper than that.
Hit the parks
There are a lot of expensive attractions such as Universal Studios Singapore, which is also smaller than Universal Studios in Florida, that you could blow a whole lot of money visiting, especially if you're traveling with family, but there's also plenty to do for free, and the local Singaporian parks are a case in point. Filled with fragrant exotic plants and flowers, stunning wildlife, skywalks, and elevated bike trails, the parks are great places to spend a few hours without spending much, if any money, without ever getting bored. There's so much to do and see that if you make the parks the main attraction in your vacation, you'll be able to see Singapore on the tightest of budgets.
Visit other free attractions
Of course, you can't spend all of your time in the parks, and you don't have to because, despite being so expensive, Singapore is actually pretty good at making events and attractions available for free. There are often public performances in parks and the city center as well as regular street performers at the esplanade, and several times a month, entry to usually expensive galleries and museums will be waived for the day or evening, which means if you time your visit right, you can make the most of the city's culture without paying a lot of money for the privilege.
Avoid the shopping malls
Singapore is a shopper's dream. It's packed to the brim with expensive shopping malls selling the finest of everything, but if you're on a budget you're going to want to avoid them. That doesn't mean you can't still shop 'til you drop though – you just need to do it elsewhere.
Instead of hitting up the malls, visit the tourist markets in the Little India and Chinatown area or the cheaper shops that you can find dotted around here and there. You'll find lots of little treasures that will serve as an excellent reminder of your trip and you won't be walking around with the same store-bought goods as everyone else – what's not to love.
Obey the laws
If you don't want to end up with a hefty fine or worse, you need to follow Singapore's strict rules which include not chewing gum or spitting. Familiarize yourself with them before you head off to avoid disaster,
Have fun exploring Singapore on a shoestring.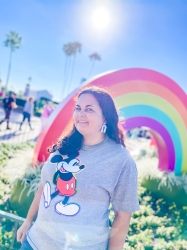 Latest posts by Krystal | Sunny Sweet Days
(see all)