How to Save Money at a Baseball Game
The institution of spring training baseball has changed tremendously over the last decade. I know because, as a professional baseball writer that has covered it for the past dozen years, I watched it happen. It definitely isn't quite the same as when I was a much, much younger fan. One of the things I miss is how it used to be extremely affordable option as opposed to most regular season games. Over the years, stadiums transformed from simple, intimate venues where you could sit out under the Florida sun and soak in nine innings, to state-of-the-art palaces that are, by design, meant to immerse you in "the gamely experience."
This, of course, all has a hefty price tag. While it might still be a more affordable option than some regular season games, spring training games are big business. The days are almost entirely past when a couple of bleacher seat tickets, some cheap sodas and a few hot dogs were all you needed to have a great day at the ballpark. Now stadiums are equipped with air-conditioned luxury boxes, a myriad of high-end dining options, and vendors in thatched-roof tiki bars. To create amazing family memories this spring at a sports game, try these tips to document your experience while also saving money. You can still have fun AND use your cash wisely. With a little planning, a spring training game can still be a family —and wallet — friendly way to spend a March day in Florida, you just have to have a gameplan in place.
How to Save Money at a Baseball Game
Enjoy the cheap seats: Nearly every stadium in Florida has a general admission or berm seating option —sometimes costing under $10. Berm seating, the grassy patch which is usually found down the outfield lines,  is great if you have small children who end up with a massive sugar buzz by the second inning and need room to run around.

General admission tickets allow you to see the entire stadium without being tied down to a specific section. Stadium architects, by design, have created modern ballparks to have 360-degree views of the field of play which means you can essentially check out the game from every position inside the park. Some of the newer stadiums feature catwalks around the outfield that have drink rails, tables, and barstool seating where you never have to lose sight of the action on the field. Best of all, these tend to be the most modestly priced tickets in the entire park.
Pro tip: Use your tax return wisely to save on spring entertainment. Pick 1 family activity, like a baseball game, to enjoy on a budget. You can still have fun without a lot of money.
Eat before you go: Although not as prevalent or involved as tailgating at a football game, it's not uncommon to see fans hanging out in folding chairs next to the cars in the parking lot before every game. Pack a cooler and make your own sandwiches to enjoy before the game so that you can avoid as much of the inflated concession prices as possible once you go through the gates.
Don't forget your phone: As stadiums become more geared toward a digital age, having a smartphone is now an essential part of the gamely experience. Most stadiums now offer free wi-fi connections for fans so that you can access the teams' apps on your phone that allow you to follow along with live box scores and interactive rosters to learn more about the players on the field. Use your tax refund wisely to try a new phone that offers a better plan that will follow you from the ballpark to the theme park to your home and office. When you save money with an affordable cell phone plan, you can use your cash wisely for entertainment like baseball games and other family-friendly activities.
Pack the essentials: We have a special backpack just for game days. In it, we keep all of our gameday supplies like blankets (since we usually sit on the berm), sunscreen, markers, and pens for autographs and spare pieces of clothing just in case.

Create your own souvenirs: You might be tempted to shell out money at the gift shop but it is possible to take home a souvenir that you, and your kids especially, will remember for the rest of your life. Watching batting practice is one of my favorite parts about spring training and if you get to the stadium early enough, you can watch from the outfield while batters send pitch after pitch over the wall. Like foul balls during the games, if you are lucky enough to catch one, you get to keep it. The odds of catching a ball in batting practice are much better than catching a foul ball and since players are pretty accessible during the games, there is a good chance you can have players sign your ball too!
Our son was the lucky recipient of TWO batting practice balls this past weekend!

Explore the whole complex: You don't even have to necessarily go into the main stadium to have an enjoyable day at the ballpark. Most of the spring training venues also function as full player development complexes with practice fields located behind the main stadium. On game days, when the big league team is playing in the main stadium, these side fields will host minor league games from the organization. There is usually no charge to watch these games, they are less crowded and it's not uncommon to see players from the big league team make an appearance alongside the young prospects to get some extra work in or rehab injuries.
Save money this spring with these tips to enjoy a day at the ballpark with your family.
Baseball Family Fun Tips
How are you saving smart this spring? Do you like going to baseball games?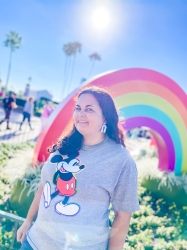 Latest posts by Krystal | Sunny Sweet Days
(see all)