5 Romantic Getaways in Florida to Celebrate Your Anniversary
Your anniversary is a special day regardless of how long you've been together. There is no better way to commemorate your special day than taking a trip to some romantic places.
If you live in Florida, you learn how unique the place is and the numerous getaways it has to offer. Florida is the perfect place to plan your anniversary trip if you are an outsider. You have ample options to choose from depending on what kind of activities you'd like to do.
Whether planning a surprise or giving in mutual suggestions for the trip, this article is for you. So, let's cut to the chase and read through to discover some fantastic places for couples.
Little Palm Island, Little Torch Key
Typically, Florida is equally an adventure state like it is to relax into romance. This place is a 4-acre private island resort in the United States and is fantastic for love birds who want to spend exceptionally romantic time alone.
It is far from the haste and bustle of the main cities, so you have the place all to yourself with luxurious amenities amongst the palm trees. You can do many things together to make it all fun and happen while keeping the magic of love alive.
For instance, to spice up the anniversary night, you can set up the room for the night with a highly romantic and cozy vibe. Later in the day, you can book spa treatments together or soak in the suite's copper tub for a fantastic ocean view. 
Miami Beach
Are you both fans of the gigantic oceans? If yes, Miami Beach is the perfect location for you to visit. It is a lethal dose of culture, art, and a chic atmosphere. The beach shines for miles at once with bright goldish sand lined up with shops and shacks.
Fortunately, they offer many water activities for fun-loving people. So, if you would instead enter the watts than gaze at it from shore, you can choose different activities. They are fun and romantic at the same time.
For instance, you can book a private sailing charter, enjoy a parasailing trip, or rent jet skis to experience the oceans from the closest vicinity. Later, you can enjoy a romantic lunch or dinner by the beach where it is you both and the mighty waters filling in the atmosphere with love. You have sumptuous local and international delicacies to savor at the beach and nearby restaurants.
Fort Lauderdale
Vacations often include budgeting to ensure that you have the best of fun but do not let it hamper your finances. So, one of the best options to enjoy a romantic, adventurous, and budgeted trip is to visit Fort Lauderdale.
It is a mix of things to do and see. For example, you can spend time lounging by the ocean at the famous Fort Lauderdale Beach or Las Olas Beach. They are both popular among locals and tourists for their crystal clear waters and sand. Moreover, you will have access to nearby restaurants and hotels, thus reducing local transportation costs.
In addition, you will get the best seafood in the area at a traveler-approved famous restaurant. To romanticize the dining experience, you may book a gondola dinner cruise along the New River.
Amelia Island
Some people love to spend time in nature to rejuvenate themselves. The real essence of a romantic vacation for them lies in walking into the woods, being raw, and having a beautiful bike ride. If you also love such things, it is suggested that you visit Amelia Island for the anniversary trip.
It is a beautiful place that lies 35 miles northeast of Jacksonville. You can find oak trees, forests, and beaches with beautiful quartz sand. Here, you can stroll hand in hand on the beach or go for a bike ride to explore the island.
Many couples use the opportunity to experience a horseback ride in the evening to make it more romantic. The setting sun makes the beaches look super beautiful; later in the night, choose your favorite cuisine and enjoy it in the luxurious restaurants.
JW Marriott Marco Island Beach Resort; Marco Island
It is situated in southwest Florida and is desirable to visit with your partner. It has a 3-mile-long private beach, and the lounging views are breathtaking. The huts are placed on the beach with a view of palm and oak tree parks. You can walk in the park or indulge in a game of tennis.
Moreover, it has a beautiful foot spa to unwind and relax while getting a couple of massages. The views in the evening are mind-blowing; you can sit by the beach and watch the sun setting while making the waters turn into different colors. Spending time amid nature with luxurious amenities is perfect for celebrating your anniversary.
Bottom line
Celebrating your anniversary is nothing but spending time with your partner to create new memories and relive the old ones together. You can think of the activities you want to do together or as individuals to ease your trip planning.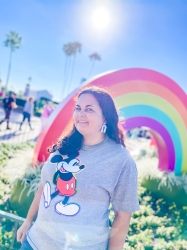 Latest posts by Krystal | Sunny Sweet Days
(see all)