6 Tips To Help You Better Experience The Eternal City
Rome is a city that has been around for centuries and is steeped in history. It's no wonder that it is one of the most popular tourist destinations globally. If you're planning on visiting Rome or have already been and want to make the most of your experience, here are six tips to help you better enjoy The Eternal City.
Get a Good Map
This may seem like an obvious one, but it's worth mentioning. A good map of Rome is essential to make the most of your time in the city. There are several different options available, so be sure to research and find one that suits your needs.
Nowadays, Google Maps has everything. When traveling, Google Maps is an excellent resource and can help you get around a city easily. Make sure you have the app downloaded onto your phone before leaving home.
Book Your Tickets Early
If you're planning on visiting any of the popular tourist attractions, such as the Colosseum or the Vatican, it's a good idea to secure your tickets in advance. This will help avoid long lines and ensure that you don't miss out on anything.
Some websites and apps allow you to do this, so be sure to do some research. When planning for Colosseum tours, go for the best online platform. With the best deal on tickets for Rome Colosseum tours, you can make your plans smooth. Check out sites that offer skip-the-line tickets and a variety of other benefits, such as a free tour of the Roman Forum. This is an excellent resource for tourists who want to make the most of their time in Rome.
Be Aware of Traffic
Rome is notorious for its traffic. If you're renting a car, be aware that it may take longer to get from one destination to another than you might expect. Public transportation is also an option, but it can be pretty crowded during rush hour. If you're walking, look both ways before crossing the street and be mindful of cars and scooters.
Hiring a tours and travels company is an excellent option if you're looking to maximize your time in Rome. They can help you to see the city's highlights in a short amount of time and can provide you with expert advice on the best things to see and do. There are many different companies to choose from, so be sure to research and find one that suits your needs.
Dress Respectfully
When visiting religious sites, such as churches and temples, it's essential to dress appropriately. This means avoiding shorts, tank tops, and other revealing clothing. It's also a good idea to have a scarf or shawl with you, as some churches require women to cover their heads. In general, it's always a good idea to dress respectfully when traveling to new places.
When packing for a trip to Rome, it's essential to pack the correct number of apparel depending on the number of days you'll be there. If you're visiting for a week or less, pack enough clothes to last you the duration of your stay.
Have an Open Mind
Rome is a city with a lot of history, and it can be easy to get caught up in all of the sights and sounds. However, it's important to remember that Rome is also a city full of people living their everyday lives.
Don't be afraid to explore off the beaten path and experience the city like a local. This is often when you'll find the best food, drink, and entertainment.
Also, take advantage of the free attractions. Rome is home to many world-famous attractions, such as the Colosseum, the Vatican Museums, and the Trevi Fountain. Although these are all incredible places to visit, they can also be quite expensive.
Luckily, several free attractions are just as worth your time. The Spanish Steps, the Pantheon, and Piazza Navona are all excellent options. Do some research ahead of time and list the free attractions you want to see to make the most of your time and money.
Eat Like the Locals
Rome is known for its food, and there are several classic dishes you'll want to try while in town. However, it's also worth seeking out some of the less-famous eateries. These often provide a more authentic experience and can be just as delicious. When in doubt, ask a local for recommendations. They'll be more than happy to point you in the right direction.
Rome is a truly fantastic city with a lot to offer tourists. However, plan everything well to enjoy it a lot, starting with the tickets. It's also a good thing to familiarize yourself with the various attraction sites and the culture of the people.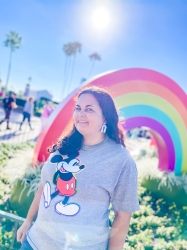 Latest posts by Krystal | Sunny Sweet Days
(see all)