Road Trip Essentials With Free Printables
We are planning our summer road trip already, and I am counting down the days until our toes are in the sand in the Florida Keys! It's about a five hour drive from us which actually isn't too bad considering some people drive much farther to get all the way to Key West. You see, while we are not too far north from Key West, we actually have to drive all the way east and all the way west again to get to Duval Street. While we still have a few more months until we watch sunsets over the water while sipping fruity cocktails, it is never too early to prepare. From car maintenance to packing, there are so many things to think of before hitting the road! Keep reading for a few tips to get moving and stay safe on the road!

It is not about where you're driving, it's about who you're driving with.
This Mother's Day, I am thinking about our upcoming trip with my family but also all my recent road trips. We recently got passes to a popular theme park in Orlando, so my mother and I have loaded up the car on a few occasions to meet costumed characters and ride roller coasters. Each road trip is full of silly memories from loud music, coffee stops, and my hilarious toddler acting ridiculous, and I can't wait until we hit the road again! Before we do though, I'm going to PLAN! We constantly seem to forget all those little things that our glove boxes were made for. This time around, I am making a car care kit! While we always try to have the emergency essentials like jumper cables and a spare tire, I am thinking more of those personal care items that should be stored in your car just in case. I teamed up with Discount Tire to share my best road trip tips and memories, and I've created a printable too. I hope you use it before your next trip!

Discount Tire/America's Tire is based in Scottsdale, Arizona. It's the world's largest independent tire and wheel retailer. The company currently operates more than 900 stores across the country. In 2010, the company marked its 50th year serving customers as their trusted tire retailer in local markets across the U.S. Discount Tire/America's Tire also sponsors NASCAR Nationwide Series and Monster Energy AMA Supercross.
Car Care Checklist Printable

This is an exhaustive list, right? I hate getting somewhere and not having a stain remover pen handy or my hair tie suddenly goes missing.  You never know how much you need a hair tie until it's gone! 😉 You could use an empty baby wipes case to store these items in your trunk or another compartment in your car. If you live in a colder climate, don't forget about an ice scraper and anything else you might need for snowy days. If you are in a warmer climate like myself, items like gum might not have the best shelf life in your car. Try mints instead. 

If you have little ones on your trip, try playing a game. This road trip scavenger hunt has room for you to add your own ideas as well as a few from me. From stick figure families to license plates, give your children a game to play while you drive. Reward them for finding everything as you create a new family road trip memory. 
While we gear up for our next trip, I hope that you plan something memorable with your family too. Enjoy the summer weather, roll the windows down, and explore!
What has been your most memorable road trip? Where would you like to go?

[amazon-related-products keywords="road trip games"]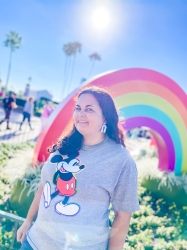 Latest posts by Krystal | Sunny Sweet Days
(see all)