Raw Dog Food: The Best Way to Feed Your Pet
This post contains affiliate links.
Dogs are natural carnivores, and they need to eat a raw food diet in order to stay healthy. Eating a raw diet has many benefits for your pet, but it can also be quite difficult to find the right balance of nutrients that will keep your dog happy and healthy. This blog post will discuss why feeding your dog a raw food diet is the best way to feed them, as well as how you should go about finding the right balance of nutrients for their new balanced diet.
A raw diet is a natural way for a dog to eat, and it gives them all the nutrients that they need. Dogs are naturally carnivorous animals, meaning that this type of meat-heavy diet satisfies their nutrient requirements much more easily than eating other types of food like vegetables or grains. They also get plenty of fiber from chewing on raw bones, which is important for their digestive health and provides an excellent source of calcium.
It's not always easy to find the right balance with just meat though- your dog needs some veggies too. Fortunately, there are raw food recipes out there that include vegetables like carrots bones, which so that they will not experience const constipation.
A simple idea for using raw dog food with your pets is with TruDog. You don't need to thaw it! Skip defrosting, cooking or preparation just store Feed Me on your counter. If you want to switch to a new raw diet, definitely take your time to avoid any upset tummies. Visit TruDog to find out more about transitioning and why raw dog food has more health benefits. Plus, keep an eye out for Rawgust which will be really exciting!
TruDog is made in the USA and is easy to digest. Plus, it's made for dogs of all ages and breeds. Definitely check out their website and see if their products are a good fit for you and your furry friend.
Tips for Raw Dog Food
Transition your pet slowly
Prepare your pet the appropriate serving of dog food. TruDog has a helpful list on their website.
Raw bones are important, but only feed them raw chicken or turkey legs with no added spices occasionally so they don't get sick.

The benefits of feeding your dog a raw food diet are many, but it's difficult to find the right balance on ingredients for their new balanced diet. This blog post will provide tips for finding that perfect recipe and showing you how easy it is to make sure they get plenty of veggies and meat with this type of diet.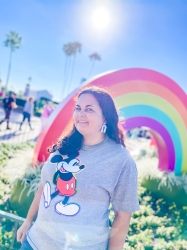 Latest posts by Krystal | Sunny Sweet Days
(see all)