Planning to Buy a Stroller for Your Baby? Here Are Some Useful Tips
Do you have a baby on the way? Or are you just about ready to bring that bundle of joy back home? Once your baby has settled into your new house, you wouldn't want them all cramped up inside. 
It's good to have them out in the open every once in a while and the safest way to do this is with a stroller of course.
As a parent, one of the best investments you can make is the stroller. While your baby will outgrow this in a couple of years or so, it's still a piece of your baby's life that can make traveling with them a lot easier. As this is an investment worth making, it's only a must that you pick the best stroller for your baby.
With so many options and factors to consider, it can be quite a daunting task to go to the baby section in a department store to look for a controller. Here are a few tips you'd probably best consider if you only want the best for your baby.
Know What Type You Need
If you are a first-time parent, you probably didn't know that there are various types of strollers that you can get for your child. We'll give you a run down on the basics of these.
Full-sized stroller – A large stroller that can accommodate your baby well into their toddler years. It's sturdy, durable, and one of the priciest of all strollers. However, it's one that can last for a really long time.
Umbrella stroller – A light and cheap stroller that's mostly just the carriage and a small frame. Far less durable as compared to a regular stroller but is more portable as well.
Jogging stroller – It's a stroller built for mobility and stability. Perfect for parents that want to bring their baby out during a run on the part. The key feature of this stroller is its large wheels fit for any terrain.
Double stroller – If you're having twins, then this is the stroller for you. While it is made to accommodate more than one baby, double strollers often have dividers that can be removed. Doing so will give one baby more room.
Car seat carrier – It's a carrier that you can attach to your car seat easily. It's light and easy to carry. It's good if you are going to the mall or the grocery and you want to bring your baby with you.
Travel system – A travel system is the most versatile of all the strollers. YOu can have it attached to almost all types of strollers, so it's a good investment as well.
You can have more than one of these but it's not really practical. We suggest getting a full-sized stroller whose carriage can be removed and attached to the backseat of your car. This will give you everything you need for your baby in a durable and long-lasting package.
Consider the Weight of the Stroller
One mistake that a lot of parents make when getting a stroller is putting the weight of the stroller out of their priority list. As per experts from https://www.littlebabygear.com/, the weight of the stroller is one of the most important factors to consider. It all has to do with your well-being.
Keep in mind that you are going to bring your baby along with you most of the time. Whether you pick a carrier or a stroller only, the weight has to be something that you can manage to bring back and forth on your own. Having to push a heavy stroller can be bad for your back and we're sure that your baby wouldn't want you putting yourself at risk too.
Key Features
Stroller manufacturers will try to entice you with stroller features. While having a lot of features is great, there are a few that you need to look for specifically.
For starters, you'd want a stroller with shock-absorbent wheels so your baby can rest easy even while the stroller is moving. Strollers with emergency brake systems are also important for those instances when you really need to have the stroller stopped immediately.
As for the material of the stroller, go for aluminum as this is the most durable material for strollers. Despite its durability, aluminum is surprisingly light as well. While pricey, it's something that can last for a really long time.
Getting a stroller can be a daunting task with all the great options to choose from. Hopefully, this mini-guide gives you a better glimpse of what you need to look for in your baby's own stroller.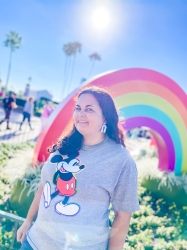 Latest posts by Krystal | Sunny Sweet Days
(see all)