Cute + Creative Photography Props
Every Sunday I will share easy photography tips for new photographers, busy bloggers, or those who just want to learn more about staging and styling photographs. I'll let the experts teach the technical stuff, but I'm teaming up with Mariah Meyer Photography to bring you ways to save money on your gear, easy ideas to take better photos, and simple styling tips. Today's topic is all about how to find backdrops on a budget.

Whether you're looking to add flair to your food photography or want to take portraits, try mixing it up with these props. These ideas are anything but cheesy!
Pom poms. Pompoms can be a great additive to any set up for photos. You can purchase them for fairly cheap or you can actually make your own with either tissue paper or dyed coffee filters. These are purchased ones used for a Valentine's Day set up. They come pre done and you'll just have to unfold and fluff them before or after hanging. The yellow ones in this set up I created using coffee filters.

Chalk Boards. Small chalk boards and signs work great for images where an announcement is being made. You can have them pre-created like this image, or you can add it in during editing. Large chalk boards work great for drawing on in editing to make unique photos.
Child's Current Favorite Toy. No matter the size! I seem to have come across little ones who must have large items in the studio, but that's all right because it's adorable! Spiderman! This little guy needed his three foot Spiderman in his photos, but I was up for the challenge!

Food. Food can make a great prop! It can be used for just about any session. Aside from milk and cookies, here are some other ideas.
Sports Apparel/Props. Football is a big sport in this country, and many people have favorite teams. Try incorporating that into your sessions for unique photos. Jerseys also add some great color to images.

Follow Krystal's Kitsch's board >> Photography Tips on Pinterest.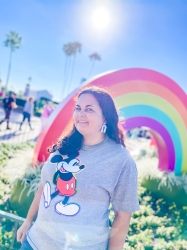 Latest posts by Krystal | Sunny Sweet Days
(see all)