How to Reward Your Pet | Meet Lucian: The Story of Our Adopted Dog
This is a sponsored conversation written by me on behalf of The J.M. Smucker Company. The opinions and text are all mine.
As far as situations go, Lucian's looked pretty dire. He sat, timidly, in the corner of the concrete kennel in the far back of the animal shelter, surrounded by other hopeless cases. He was a chow-chow mix, considered a dangerous breed in our state. Most home owners associations and rental properties won't even accept them living on the property. He was jet black. For whatever reason, people are less likely to adopt a black dog. To top it off, his initial evaluation said that he was aggressive around strangers and other dogs since being surrendered by his former owner.
Trapped in a shelter that was filled to capacity and with so many factors working against him, he was on his final days. The rescue had already started the desperate pleas on social media. I'll admit that as we walked around the shelter looking for our next family member —and what would be Cannon's first pet that would be completely his own — Lucian didn't even register in the initial top five possibilities. It wasn't the color. My last dog of 14 years, the one that recently passed earlier this year, was a black lab-weimeramer mix.
It wasn't just the breed. I've had chows my entire life, including the current one that any new dog would have to share our house with. And it wasn't the warning flags about aggression that were written in his notes, especially knowing that he would be dealing with a rambunctious four-year-old. It was the skittishness.
I know chows. They are fiercely loyal and once they bond with a master, it's tough for them to accept anyone else into their "pack." Whatever dog we chose would need to be a little boy's best friend and playmate for the next decade. We already had one aloof "living rug" at home and he doesn't play fetch either. We had the paperwork to meet two other dogs in hand when, perhaps by fate, the kennel attendant came walking past us with Lucian in tow for his daily play time. We went with them to the outside pen as the volunteer gave us his whole history.
We never did meet the other dogs we were interested in.
It was immediately clear that whoever had him before he ended up in the shelter had spent some time in training him. He knew how to run on a lead, heel and do other basic tricks. In the end, it would be Cannon's call, however. He chose Lucian. Two months later, we don't regret the decision. He immediately bonded to me and for the first two weeks, he was tied to my ankle. Lucian loves to run laps in his new back yard and roll around in the patch of grass I leave unmoved just for him. He's gained over ten pounds and his coat is much thicker. Woof Yeah!
He's got his flaws. Despite the fact that he looks like G'Mork the Black Wolf of the Nothing from The Never Ending Story movie, he is deathly afraid of lightning and thunder. He's still very wary of strangers and I'm pretty sure he is going to eat the UPS delivery guy if he ever gets the chance. He chews panties, shoes and whatever stuffed animals that get left on the floor. We can't leave the windows open when we aren't home because he will crash right through them and cruise the neighborhood, prompting warnings of wild coyotes prowling the streets.
We've accepted all that. In exchange, he gives us grateful hugs every time we get home from work and snuggles during movie time. He's a big kisser. I think somehow he knows he was saved. Best of all, he immediately bonded with Cannon too. He doesn't even mind being used as a pillow during video game time. He's never been aggressive towards him and is surprisingly gentle with him even when things get a little rambunctious. They are now best friends. As I type this, Cannon is trying to teach him how to play Monopoly.
To reward our new pet, we turned to Pup-Peroni from Walmart! You can find them in the pet aisle. We purchased the 38 oz Pup-Peroni Original Beef Flavor Dog Treat which has enough treats to share with our other pup too! These treats have real meaty goodness because real meat like beef, steak, or bacon is the #1 ingredient!
We have a life-long loyal friend, all because we saw hope in a hopeless case. How do you reward your pet?
Tips For Dog Owners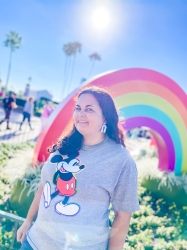 Latest posts by Krystal | Sunny Sweet Days
(see all)