The Ultimate Travel Guide to Montgomery, Alabama
I was recently invited on a media trip to Montgomery, Alabama. Follow along for the best eats and sights in this southern destination!

I never thought I would make it to the Montgomery area, but it has long been on my radar for good food and fun. I have a friend who lives nearby in Birmingham, and I thought it would be a great place to visit for a girlfriends foodie trip.
Spoiler alert: It did not disappoint. Between the unique restaurants and craft beer to the historic museums and monuments, you can see the city of Montgomery changing day by day. It is not what I would have expected before visiting, and now I can't wait to go again. The charm of downtown and being able to walk to the Riverfront or to a baseball game at the Biscuits stadium before heading to the historic church that Dr. Martin Luther King, Jr. spoke at, is powerful and positive.
Where to Eat and Drink
The Capitol Oyster Bar is a local institution and can't be missed, and it definitely reminded me of some of my favorite restaurants from here in Florida. Located on the river, you can get your favorite fried seafood paired with an ice cold beer. It's a no-frills spot to enjoy the best seafood in the city while overlooking Downtown Montgomery and the Alabama River. Plus, the service was fantastic. Find it on 617 Shady Street.
Have breakfast at Cahawba House for a low-key breakfast with locally sourced ingredients. The beignets are famous! Stop by at 31 South Court Street.
Don't miss coffee at Prevail Union. I loved this spot on our last morning in town. I had an iced coffee in a beautifully inspiring location while I chatted with a friend. I would definitely come back, and I'm secretly wishing I had more adorable coffee spots like this in my own town.
Established in 2016, Prevail Union Montgomery is the second "union" iteration of the Prevail Family. Prevail Union is a craft coffee shop focusing on delivering fresh roasted coffee and unique drinks while in a comfortable environment. We work with and care deeply about our farmers and work with like-minded producers all over the world to source incredible coffee's, grown with pride and patient respect for our Earth. Find Prevail at 39 Dexter Ave #102.
One of the best meals of our trip was at Central on 129 Coosa Street. Central is an upscale casual restaurant and event venue, located in the heart of Montgomery's Downtown entertainment district. Central is proud to be the #1 rated restaurant in Montgomery, AL on TripAdvisor and the 2018 OpenTable Diners' Choice Award recipient for the fourth year in a row. And, I can see why.
The ambiance is welcoming and exciting with a unique cocktails menu and delicious entrees to choose from. It's not a surprise that their social media handles tout their recent visits from celebrities like Stephen King, Will Ferrell, and Evander Holyfield. It's the spot that you want to go to to see what is on the menu.
I couldn't pass up the scallops, and I would be lying if I didn't say this was the best meal I've had in months. I'm still dreaming about the wine pairing and the attentive service.
For more dining options, visit Cloverfield nearby. We went to Vintage Year, Vintage Cafe, and Filet & Vine. I've got a full review over on my post about the neighborhood Cloverfield here.
Don't miss local craft beer
Whenever I visit a new city, I always look for the nearest brewery. I was very excited to meet the owners and sample the brews at Common Bond. It is a new brewery that is part of the city's revitalization, and I love the space! Stop by 424 Bibb St Suite #150 for a flight!
What to Do
Don't miss the Rosa Parks Museum at 252 Montgomery Street. We were not able to take photographs inside the museum, but I truly appreciated the interactive exhibits and being able to see the spot where it all started.
Another highlight is the Legacy Museum and the National Memorial for Peace and Justice. Commit to spending half a day exploring each spot and fully absorbing the material. It is both somber yet important to the history and future of our country.
We also spent half a day at both the Dexter Avenue Church and the Dexter Avenue Parsonage. The tour guides are what make these historical sites worthwhile. Getting to know the insider of a city from its residents and local historians can help paint the full picture of the Montgomery era and its role in the Civil Rights Movement. Reading about these events in history books can only teach you so much. Actually seeing, hearing, and being inside some of these places makes it real.
The Fitzgerald Museum was a beautiful spot to walk through. I adored the decor and was amazed to see that it also rents out its apartments via Airbnb!
Don't miss the free Montgomery Art Museum and Sculpture Garden and check the schedule to see if there is a Montgomery Biscuits game. Minor league baseball (along with local craft beer) is always one of my top things to do whenever I travel.
Be sure to walk the Riverfront and explore the beauty near the Capitol building.
Where to Stay
Want a river of the river? Book a stay at the Renaissance Montgomery Hotel & Spa at the Convention Center located at 201 Tallapoosa Street. Honestly, this was the best property that would be ideal for a couples getaway or quick girls night out. It is located within walking distance to many of the spots we talked about in this guide including Central. You can walk to the museums, have a drink on the roof near the pool, and just kick back and relax!
Learn more about Montgomery, Alabama on Facebook, Twitter, and Instagram. Follow #MyMGM for all the fun!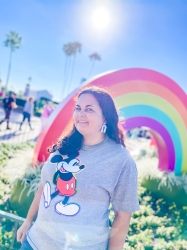 Latest posts by Krystal | Sunny Sweet Days
(see all)