How To Transform Your Kitchen On A Budget
You don't have to spend a fortune to freshen up your kitchen and give it a makeover. Whether your kitchen currently is a little dated or you just want to change it up, all you need to do is invest a little time, effort, and a creative flair and your kitchen can be transformed. 
There are so many ways to complete this transformation. If the framework of your kitchen is in good nick, you could just replace the doors and handles or paint them. These ideas are a lot cheaper than a full kitchen replacement and offer an easy and low-cost way to transform your kitchen in a very short timescale. 
To keep your kitchen inviting and the heart of the home perfect for hosting a wine party or even relaxing in an evening, you don't want to be too extreme with the renovation. You want to choose high-quality paint, don't cut corners with this part, as it is important that it is durable and can handle being regularly wiped down to be kept clean. Then with some simple finishing touches such as shelves and some strategically placed cookware or moscow mule cups on display you have created a practical, warm and inviting space.
There really is so much that is completed with a little imagination. Here are some more ideas.
Upcycle To Create Storage Solutions
With a brief vision, there are many ways to turn a mundane object into something of beauty and it can provide really effective ways to maximize your space if your kitchen is on the cozier side. 
For example, consider using the wall space and the ceiling. This can allow you to use space that previously was being wasted, ensure that your counter sides are being cluttered, and add a unique touch to your kitchen. You could use old bed slats on the walls and with S hooks hang your utensils to create a decorative and practical solution, or using old piping and string to hang from the ceiling with S hooks to hang your pots from when not being used.
Paint Your Kitchen Cabinets And Walls
Painting your cabinets is the cheapest way to spruce up your kitchen and create a fresh look on a budget. By choosing a contrasting color to the walls you can showcase your personality and change the whole aesthetics of a space. 
With some careful planning, you can also change how to room feels. If you use light colors on the walls and a darker color on the cabinets, you can make the room appear larger and make the ceiling look higher and the room brighter. 
If you decide to paint the cabinets make sure you use a primer beforehand to ensure the paint applies well and it lasts longer. 
Replace The Doors
If painting the doors won't do the job, you can always choose to change the doors and draw fronts completely. This still provides a cheaper option than a full kitchen replacement. As long as the structure of the cupboards is still in good condition, you can simply unscrew the current fronts and attach new ones. There are many companies that specialize in these and you will have an array of options available to meet your taste. 
Remember, if you are changing the doors completely to consider the finish of these. Having a matt or gloss finish will change the overall dynamics and feel of the space. 
New Worktop
To completely create the illusion of a complete kitchen refit you will want to consider how to revamp the kitchen counter. You can completely replace it, or there are options cush as laminates that can be applied to change the effect of the space and create the illusion of a new worktop. 
Update The Flooring
You can't let a tatty floor let down this paradise you are creating. You don't have to invest too much time or money into the floor, but it is worth spending the time to finish the room properly. You don't have to rip the old flooring up and lay new flooring, there are many options that can keep the cost and time down. These include laying a new flooring on top of your existing or even cleaning up your existing flooring properly and doing any grout. This can make the flooring look new again without breaking the bank. If you already have tiles and no amount of cleaning will make them look new again, you could consider using floor paint. That way you have the option to change the color to match your decor and save on the cost of new flooring. If you decide to paint the floor, however, ensure that you are using the correct paint, as floors are hard-wearing areas you need to apply heavy-duty paint that will manage this level of footfall. 
Make Doors Multifunctional
If you have a busy family life to juggle or like to use visual reminders, you can incorporate this into your decor and make items such as cupboards doors multi-functional. A perfect example of this is to use chalkboard paint in a confined location. Not only does this make a feature spot, but it is a great way to make personalize the space but either giving the children a space to create their masterpieces, creates a great way to plan your meals or schedule, or allows (if you are an artist) you to have and change the artwork. 
Change Your Cupboard Handles
With decorating, it is the minor details that can make the biggest difference. By taking some time to change the handles you can modernize your space and change the vibe of a room within half an hour. 
Update Your Lighting
Where once lighting was there as a necessity, they now feature items within any room. With a variety of options available they can add depth and attract the eye. With the use of hanging lights and spotlights under cupboards, you can add warmth, light, and style to your kitchen.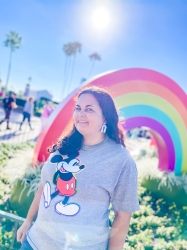 Latest posts by Krystal | Sunny Sweet Days
(see all)