Winterizing Your Home For The Holidays
Can anyone believe that it's already December? I realized a few months ago that I needed to winterize my home as the colder months drew near to help keep my home as cozy warm as the temperatures fall. There are a few main items you'll need to cover as the seasons change that I wanted to talk about with you! Many of my friends just purchased a home and had no idea that you needed to do some of these things. Check out a few tips below.
Furnace – One of the biggest things that we forget to do when the colder months arrive is to turn your furnace on. You want to make sure that it's working before the coldest weather descends. A strong, odd, short-lasting smell is natural when you fire up the furnace in the autumn. Simply open a window to let that smell out. However, if it lasts a while you want to shut down the furnace and call a professional to come and check it out. A few things that could be making that smell linger longer is a dirty filter. This reduces the efficiency and could even cause a fire in extreme cases, something no homeowner wants to happen. Toss out the dirty fiberglass filters and follow the instructions that the professional gives you to make sure everything is running in an orderly fashion.
Chimney: One of my favorite things to do in the winter is put on a cozy fire and watch the snowfall. However, you want to make sure first that your chimney is in good use before using it. A chimney should be inspected before use every single year. Ask for a Level 1 inspection, in which the professional will examine the readily accessible portions of th chimney. Make sure that if you have a wood stove, you should sweep it more than once a year as well. A super simple protection for your chimney is purchasing a protective cap, with a screen. The screen is there to keep out objects ( aka the occasional tennis or baseball that could get stuck up there or birds ) as well as any rain that can mix with ash. Buy the chimney cap based on durability, not appearance! It will be a lifesaver more than you can imagine!
Image: Brazilian Wood Depot
Outdoor Deck: Did you notice wood that needs replacing during the summer months? Don't wait until Spring to get it fixed because the problem could get worse. One of the biggest things we did to help our deck is upgraded to a hardwood deck. My friend over at Brazilian Wood Depot has so many options to choose from which makes the process a lot easier than having one or two options. These hardwood decks come in all sorts of colors including my favorite, massaranduba decking! I love the gorgeous red and brown color they offer plus it's durable and the longevity is incredible. The best part is it's naturally resistant to insect attack, fire, decay, rot, and mold. Thank goodness! If you are also looking to upgrade your deck, be sure to check out this company as they are one of the most sought out and professional companies out there.
Fans – Did you know that if you reverse your ceiling fan it pushes warm air downward and forces it to recirculate which allows you to sleep or feel more comfortable in the room? If you aren't sure how to do this here's a tip. As you look up, the blade should be turning clockwise! It's super simple to do and make sure that you get all the rooms that have fans so even guests feel just as cozy and comfortable as you do.
Alarms – This is a great opportunity to check the batteries that you have in your home. This includes your smoke detectors. These should be replaced every 10 years the fire official says so test them, especially older ones with a small bit of smoke, and not just be pressing the 'test' button. Check to see that the fire extinguisher is still where it should be and that it works. If you haven't already, invest in a carbon monoxide detector as well.
What are some simple and easy ways you can winterize your home for the holidays? Letting in some natural sunlight is an easy way to save energy too and is great for your mental health. I also love adding cozy blankets and throw pillows to give my home a welcome and comfortable look too.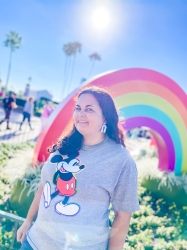 Latest posts by Krystal | Sunny Sweet Days
(see all)