5 Tips To Move A Large Family
Having a large family is a huge joy but it also comes with plenty of responsibility on everyone. If you happen to be relocating your large family to a new place, the challenges ahead of you may seem extremely monumental. However, you can organize and plan a smooth moving process for everyone as well as complete all the moving-related tasks with ease. Taking care of all your household members, any pets can be a big undertaking but it can be done. Yes, it is stressful but you can move efficiently and ensure the safety f your belongings, the well being and contentment of your family members, and the happy end of your relocation. So what are a few effective tips to help you move your family? Below are some ideas to help you!
Create A Binder– There have been several movers that have been completely unorganized which is key when moving a large family. If you need something all in one place, create a moving binder. There are several free moving planner printables to throw together or make your moving binder pages on what works best for you and your family. What should you put in this binder? You should organize it with a few tabs including a to-do list, your budget on what you need to spend on such as boxes, packing materials, a possible moving company to assist you, open house details, estimate and bids on your current home or apartment that you are selling, loan information, school information and receipts you've gotten.
Take One Room At A Time – A few weeks before you move, start to pack up the rooms. IF you have young children, it's difficult to try and pack the entire house in one weekend. The first thing you should do is start to box up items that you don't use often. For example, if you have a few home school supplies you know your children and you won't use, start to put those away. Anything that is put away and not used often should be boxed and put away so nobody can try and get into it.
Pack A Suitcase For Moving Day- If you have a long commute to move, you probably are not going to get your entire house unpacked during the first day or so. You'll want a few necessities close at hand so pack a small suitcase for each family member to bring along with you. Have your children help you pack what they want to put in their suitcase, items such as comfortable clothing, a favorite stuffed animal or toy to keep them comfortable and a few items to keep them busy such as crayons and a coloring book.
Image: Weston Moving And Storage
Hire A Professional Moving Company For The Big Day – While you may think that you can do it all, in the long run with such a large family, it would give you a peace of mind to get some help from such a professional. If you live in Florida, a quality and respectable company to call to assist you is called Weston Moving and Storage. These commercial moving profesionals in the Broward County area also offer services including long distance relocation, labor only, senior moving and piano moving. They believe in quality of service, integrity, and honesty. The satisfaction of their customers comes as a priority to them and they truly treat everyone as family and do their best t deliver exceptional service every single time. With quality, respected and friendly employees working to help make your move as easy as possible, why wouldn't you want to call on these experts to help you during such a big transition for your family?
Put Aside Cleaning Supplies – Have a container or tub full of cleaning supplies to take with you on the way to your new home. You'll be able to use this to help clean the house after everything has been cleared out. Similiar, when you move into your new home, wipe down counters, sweep the floors and try to do as much cleaning as you can before all your new furniture and items coming in. This will also make it easier for you so you aren't rummaging through boxes trying to find this particular box to help.
Are there any other ways you can help you and your large family move quickly? My biggest advice would be to take your time, involve your children, be open and honest with what's going on, and stay positive as you can. Let me know in the comments below if you've moved and what has helped your family!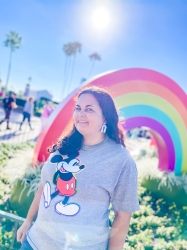 Latest posts by Krystal | Sunny Sweet Days
(see all)