Top 5 Best Ways of Renovating a Bathroom
Remodeling your bathroom doesn't come cheap, and because of this, you need to consider several issues. Here are the aspects you need to take note of.
1. Create a budget
Remodeling your bathroom must be seen as an investment in your real property. As such, a sold budget is essential to control costs. You can come up with a realistic budget after you've done extensive research on local building costs. Instead of depending on estimates, deal with a design-build company or a remodeling contractor that provides fixed pricing.
As you work on the costs, keep in mind that labor and materials costs can increase bathroom renovations. Because of this, consider the factors below:
What can you afford to invest?
What bathroom parts are essential?
Are you going to sell in the not distant future?
Do you want to change where the plumbing-in items are located?
Another issue to consider is how long you'll stay after remodeling your bathroom. If you'll stay longer, then it's a wise decision to invest in bathroom renovations since you may recoup the costs when you decide to sell the property.
2.Choose the Bathroom Type
Since bathrooms come in various layouts, sizes, and shapes, take time to look at all alternatives before you settle for the ideal one. Bathroom renovations in Montreal can help you in this regard. Here are different kinds of bathrooms you may consider.
Standard bathrooms
It contains a toilet, a sink, a shower, and a bath, or both. You can remodel this type of bathroom by adding a master suite with a soaking tub and a separate steam shower.
Half Bath or Powder room
It's a tiny space with a sink and a toilet. If your home has one full bath, you can improve it by adding a half bath, which can come in handy if you have guests or visitors. One positive thing about half baths is that you can place them anywhere in the house, be it in unused corners or closets.
Wet bathrooms
Unlike other bathrooms, a wet bathroom is waterproofed, including walls, cabinets, and the floor, keeping them dry all the time. With these bathrooms, you can create a modern and sleek outlook that allows people with limited mobility to access them. When it comes to space, wet bathrooms are economical as they can take up any space in your house, even in smaller rooms.
3. Design a bathroom layout
It's advisable to keep the original bathroom layout because altering plumbing fixtures can be costly. However, if the layout doesn't align with your bathroom remodeling plan, it may force you to develop a bathroom layout first. In this case, a designer can help you come up with one.
4. Consider lighting
Ignoring lighting can destroy the space's look and utility. Here are two forms of lighting to keep in mind.
Natural lighting
Natural lighting can make your bathroom feel airier and brighter. To achieve this, include windows and a skylight in your bathroom design.
Artificial lighting
You may also need artificial lighting since you won't have natural lighting all the time. Recessed LEDs can provide you with ambient light. Your designer should assist with a combination of lights that meet your needs.
5. Allow ventilation
Since bathrooms have a tub or shower, they can be damp. As a result, they need good ventilation to keep the users or occupants in excellent health condition and stop mold from developing. If mold grows unchecked, it can spread throughout your bathroom, leading to increased maintenance costs and health risks. Your ventilation can either be windows, window vents, or exhaust fans.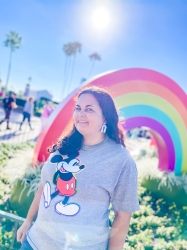 Latest posts by Krystal | Sunny Sweet Days
(see all)