Fantastic Wedding Party Ideas You Don't Want To Miss
Your wedding day is one of the most memorable days of your life. Every individual wants to ensure their wedding is unique. However, people usually go for typical wedding ceremonies and ideas that can sometimes be very boring. With a little effort and creativity, you can find many fun ideas to make your wedding stand out from the rest. Listed below are the top wedding ideas to ensure your wedding is amazing, unforgettable, and more fun, and your guests won't be bored at your wedding.
Night Movie Screening
Movies bring everyone together. It is the best way to enjoy your nights with your loved ones. After a wonderful celebration of your union, movies after a wedding are a great way to relax your dancing feet. Your favorite movie can make your first night as Mr. and Mrs. romantic and simply magical. A movie night always creates the perfect setting.
Pool Party
A summer wedding can be very challenging. But, nobody says no to a pool party in summer, so extend your wedding party to the pool for an exceptional idea for a mid-summer wedding. The team at YeahWeddings suggests that you first pick a theme and then plan themes like pirates, ocean life, or sailors will be great for a pool party. Just hop in the pool with your wedding guests and enjoy the summer sun.
Wedding pool parties can be a good idea for those who do not want to have a traditional wedding. Throwing a poolside wedding party will help to create a memorable ceremony and unforgettable event for you and your guests. Filling the pool with themed floaties will make the wedding more fun and colorful. If you can not find your preferable floaties you can always use customized inflatable floaties and create floaties with different shapes like wedding rings, cakes, or even a bride and groom.
Barbecue
If you've chosen an intimate and small wedding with your family and friends, then invite them to a barbeque after the ceremony. Time spent around a barbeque in your backyard with your close friends and family members will always be precious and memorable moments together. Good food and good company will extend your wedding celebrations where you and your guests feel the most relaxed.
Hire A Stand Up Comedian
Spreading smiles and laughter is contagious and always a recipe for a fantastic celebration. So, why not on your wedding day? Hiring a comedian will get everyone laughing, and your guests will relish your effort to ensure they have the best time at your wedding. Standup comedians don't cost much. They are pocket-friendly and will add that special entertainment where the laughter will always be remembered.
Head To A Club
Who doesn't like drinks after a wedding reception? The best part about going to a club to celebrate with your guests is that they don't close at night on weekends. You, your partner for life, and your invited guests can let your hair down and go wild celebrating. If going to a club is your ideal way of celebrating, ensure to arrange designated drivers.
Sports and Games
Why only have dancing at your wedding reception? Adding games to your wedding reception is a healthy idea. Engage your guests in different activities like sports and games. Playing games is a unique idea to get your guests to mingle, have hilarious fun, and take you to another level of happiness.
Pizza Party
If you have not left for your honeymoon immediately after your wedding, the next day can be boring since you're still high on emotions. In this case, arrange a pizza party for the day after your wedding. Invite your friends, order your pizza from your favorite pizza parlor, watch a movie, play games and cherish this time with your friends.
Coffee Time
If you've elected to have a breakfast wedding, show off your new house to your friends and family with coffee at your house. It is the perfect plan for your guests to see your new setup and enjoy quality time with each other.
Hire An Entertainer
If you don't want your guests to get bored at your wedding, hire an entertainer like a band or a solo performer. An entertainer will sing for your guests, and they will be grateful that they spared the time for your wedding. An entertainer will make your guests laugh and create a romantic edge with a few slow dances.
Plan A Picnic
Picnics take you back to your childhood and are a great idea for an outdoor wedding. Take a trip down memory lane and arrange a picnic wedding in one of your childhood spots. This wedding idea is fantastic for guests with children.
Weddings are meaningful and a day filled with joy and happiness. Creating a wedding with a unique touch is as important for you as it is for your guests. Weddings are all about enjoyment and sharing the happy memory forever. These are merely a few amazing ideas to ensure that your wedding is perfect.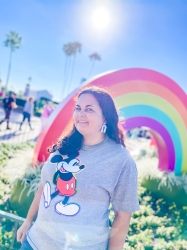 Latest posts by Krystal | Sunny Sweet Days
(see all)