Creating Beautiful Mirrors on a Budget
When it comes to home decor, mirrors are a lovely addition. Many people lovely mirrors because they have the ability to make spaces look a lot bigger than it actually is. Mirrors are also great because they reflect the light and increase the natural light that's already in the room. The one drawback with mirrors is that many of them can be very expensive. However, you can easily find inexpensive options and refurbish them. If you're looking for beautiful home decor additions to your home, consider these few steps to create beautiful mirrors on the budget.
Check various places for discounts.
One of the best places to visit for a good discount on furniture is the thrift store. Thrift stores often have lots of hidden gems. The issue is that most people don't like looking for them. Thrift stores and antique shops usually carry a variety of mirrors. Some may have a few scratches or need some sprucing up. As long as it's not cracked, you should be able to salvage the mirror and transform it into a beautiful piece in your home.
Purchase the proper tools.
Take a look at what your mirror needs in order to decide which tools you should get. In some cases, you'll need to purchase an electric sander to sand down a wooden frame from a website like www.jccayer.com. If the frame has a ton of ornate nooks and crannies, you might want to purchase an electric spray paint gun for even coverage.
Protect the mirror.
Whether you're sanding or painting a frame, it's important to protect the actual mirror. The last thing you'd want to do is accidentally get paint on the surface. Use painter's tape and newspapers to cover the mirror. Make sure to get every corner and surface area of the mirror. Once this is protected, you'll still want to make sure to handle the process in a gentle fashion. Mirrors are breakable glass and need to be handled with care. The best thing you can do is take your time to complete every step of the process. As long as you take it slow and be careful, the mirror should stay protected.
Protect yourself as well.
While you do the work, it's important to create an area that's conducive to safety. When you're sanding, use goggles so that the specks of wood don't fly into your eyes. Use a face mask to avoid inhaling the fumes of the paint. Open up the windows to allow proper air circulation through your work area. If you're working indoors, use a large a piece of tarp to cover the ground and protect your space. Stay diligent, but take breaks as needed.
Hang and enjoy.
Once you're finished with the mirror, it's best to let it dry for a few hours. Depending on the number of layers you placed on the frame, you may want to let the mirror dry for a full day. Once it's fully dry, use a screwdriver, nails and the right hanging tools to hang the mirror in the perfect spot. If it's a heavier mirror, solicit the help of a friend or family member to help you hang it correctly.
This process allows you to get a customized mirror for your home at a price your wallet appreciates. Sure, you'll have to put in a bit of sweat equity to make it all happen. However, once it's done, you'll be able to appreciate it for years to come.
Easy Home Decor Ideas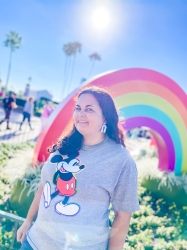 Latest posts by Krystal | Sunny Sweet Days
(see all)