6 Interior Design Ideas That Will Leave You Speechless
Are you looking for ways to upgrade your home's interior design? Whether you're a rookie designer or an experienced pro looking for some fresh inspiration, these six interior design ideas will leave you speechless. From unique lighting solutions to bold color choices, these creative touches will help take your décor to the next level. Read on to discover some of the best and most eye-catching interior design features around!
1. Kitchen countertops
One of the most important features in any kitchen is the countertop. Whether you opt for granite, marble, quartz, or another material, there are plenty of stylish options available. Granite countertops come in a variety of colors and patterns that can add a touch of elegance to your space. Marble countertops have a classic sophistication that will never go out of style. Quartz countertops offer superior durability at an affordable price point and come in many different shades. As Artistic Stone Design professionals note, the quality and price of your countertops will depend on the type of material you choose, so do your research before making a final decision. It's also important to consider the style of your kitchen and how that might impact the look of the countertop.
2. Bold color choices
If you're looking to make a bold statement in your home, then consider adding some vibrant hues to your interior design. Paint is a great way to instantly transform the look and feel of any space, so don't be afraid to experiment with different colors. Bright jewel tones like cobalt blue, emerald green, and fuchsia can create an energizing atmosphere. If you prefer something softer, pastels like rose pink or sky blue are always beautiful options. Alternatively, black is an incredibly versatile shade that can add depth and sophistication to any room. Remember that if you choose a bright color for walls or ceilings, it's important to keep the rest of the palette relatively neutral.
3. Unique lighting solutions
Lighting is one of the most important elements in interior design, as it has the power to completely transform a space. If you're looking for something that stands out from the crowd, then consider adding unique lighting fixtures to your home. Pendant lights are a popular option, as they come in a variety of shapes and sizes and can be used to provide task lighting or ambient light depending on the situation. Chandeliers are also great for making an eye-catching statement in any room, especially when paired with dimmable bulbs.
4. Vintage furniture finds
If you're after an interior design that feels timelessly elegant and refined, then consider incorporating some vintage pieces into the mix. Whether you opt for a classic sofa or armchair, a midcentury dining set, or something entirely bespoke, vintage furniture can be the perfect addition to any home. The great thing about vintage items is that they come with a unique history and charm which will help create an atmosphere filled with personality and character. To ensure that your vintage piece works well in your space, make sure it meshes nicely with the existing décor.
5. Statement rugs
Rugs can be an incredibly powerful tool when it comes to interior design. A statement rug will instantly draw the eye and add texture, color, and warmth to any space. There are plenty of stylish options out there, from classic Persian designs to more abstract patterns. Whatever style you choose, make sure the rug is large enough so that it covers most of the floor in the space. It's also important to consider its material – wool or cotton is durable and comfortable underfoot, while silk is very soft but may require extra care over time.
6. Statement artwork
Finally, art can be an incredibly effective way to add style to any interior design. Whether you prefer traditional portraiture or more abstract pieces, statement artwork is the perfect way to make a room stand out from the rest. It's important to choose pieces that fit in with the overall theme of the space as well as your taste. If you're not sure where to begin, start by taking measurements of your walls and browse through a few different galleries or online stores until something catches your eye. With so many talented artists around nowadays, there are some truly incredible works available – just remember that it should reflect who you are and what your home is all about.
These six interior design ideas will leave you speechless – from bold colors to unique lighting fixtures, and vintage furniture finds to statement rugs and artwork, you'll be able to create a look that is both stylish and timeless. No matter what your style or budget may be, these ideas will help create an inviting atmosphere full of personality and character that you can enjoy for years to come. So don't wait any longer – start planning your dream home today!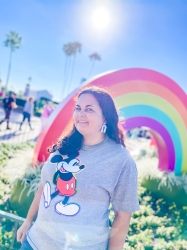 Latest posts by Krystal | Sunny Sweet Days
(see all)