How To Set Your Garden Mood In Just Three Colors
We all have colors that we love and ones that we don't – but there are some colors that work well together and can make your garden feel like paradise.
Color palettes can be difficult if you haven't got any experience matching colors or choosing which works well together. You can set the mood in your garden by combining any of these three color palette options.
When aiming to create a bright and cheerful mood, you'll be opting for bright colors, like pinks and yellows. A relaxing pastel palette will have soft rose colors and powder blues, but purple and hot reds work beautifully for a romantic and energizing feel.
Why do color palettes matter?
You don't need to use color palettes; you can let your garden do what it likes, but color palettes can make the job much easier. Choosing colors that are known to be complimentary will help you implement a disciplined approach to gardening. However, you can also pick almost any plant you like in the palette as new additions.
They also allow for a good amount of diversity and harmony.
Green and Serene
When looking to create a garden that will always make you feel relaxed and surrounded by nature in the best way, green and blue are ideal. Humans naturally enjoy both greens and blues, which is why we experience such calm when we are around water and the woods.
Great options in terms of colors for a relaxing palette are white, deep blue, and leaf green.
The white and blue are easily achieved when planting hydrangeas. The large cloud-like flowers offer fragrance and texture, and the blooms last a good amount of time. Keeping it simple with grass and the leaves from these plants give you three colors to keep your garden serene.
Romantic and Energetic
Part of what makes flowers so stunning is that you can choose from soft pastels to bright jewel-toned flowers. Deep rich colors work wonders to create a romantic and deeply energetic garden.
You can look at opposite sides of the color wheel for complementary colors: dark purples, bright oranges, and pomegranate red. You often see this pairing in nature too. Lavender is a great addition to this palette and works wonders for local pollinators too. The scent of lavender when it gets warm is also very relaxing.
The orange flowers that you choose will add bright pops of color – you can also choose some brightly colored solar outdoor lights to keep the effect long after the sun goes down.
Soft and Welcoming
Pastel-colored flowers are soft and beautiful for a garden that will look like a soft country garden painting. When planted closely together, pastel flowers can almost appear like a watercolor painting.
Unlike the jewel tones, the pastels will feel more muted but will still stand well against the deep greens of the leaves. Opt for soft powder blues, mint green, and soft rose pinks or lilacs to have a soft and inviting garden.
Because pastels are so soft, they are naturally inviting and cool, and you are likely to be visited by many bees and butterflies.
Heights
It is tempting to plant a lot of flowers that don't have much height to them, but you can also add in thinner trunks and more formed bodies. Olive plants can add some easy height without being too difficult to maintain. Hydrangeas can bring large cloud-like blooms but can also go a long way to filling out spaces in the garden as they can become quite wide.
A Globemaster plant has a long stem and a large globe-like bloom and is also known as an ornamental onion. Often pinky-purple, they work great when they are planted between 5 and 7 with a nice even spacing.
Many people prefer a pointed flower and something that tapers off at the end; although it is not ideal for every garden, Foxglove can add stunning blooms and give a lift to the garden too.
Poppies don't last very long, but they can add rich fiery orangey-reds that work wonderfully in a garden that is aimed at being energetic and vibrant.
Of course, if you are comfortable mixing and matching, you don't need to stick to a single color palette. However, these few color palettes offer an easy way to create a garden that looks cohesive without much work. Perhaps you don't want to choose all of the flowers you have in your garden, in which case the pre-made wildflower packets and bombs are perfect for giving you a curated mix with minimum effort!
The more you learn about gardening ahead of getting started, the better your first foray into garden and design will go 7 Steps to Gardening for Beginners » Sunny Sweet Days.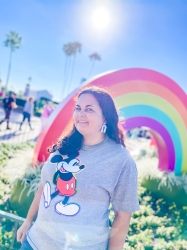 Latest posts by Krystal | Sunny Sweet Days
(see all)