3 gift ideas to impress your friends and family
Giving gifts is a lovely way to show your friends and family that you care and truly appreciate them. So, if there is a special occasion coming up or even if you want to randomly surprise someone you love, why not give them a gift that they will remember? If you are looking to impress with your amazing gift-giving talents, then continue to read on. This article will give you three gift ideas to impress the people that you love! 
1. Gift an experience
If you really want to impress your friends and family, then why not give them something that is out of the box, such as an experience. If there is something that they have been talking about wanting to do for a while, why not gift it to them? For example, if your loved one has expressed interest in camping, then why not surprise them with a camping trip over the weekend or whenever their schedule allows? If you are stuck for ideas for gifting an experience, then not to worry, as some cool ideas will be listed below:
Memberships – whether it be a membership to a museum, activity center, or national park, gifting a membership to your loved one is a great way to get cheap entry to places that they love going to already.
Movie night – who doesn't love movies? A relatively cheap, easy, yet effective experience gift is treating your loved one to a movie night. Be sure to bring lots of snacks and choose a movie genre that you know your loved one is a big fan of!
Massage session – everyone could benefit from a massage! So, regardless of gender, age, or health status, a massage is a gift that everyone is sure to enjoy
2. A meaningful gift
It is easy to buy someone some flowers, chocolates, or a card. This is because these are standard and classic gifts that almost everyone is guaranteed to enjoy. So, why not spice it up a bit by gifting someone you love something that is actually meaningful to them. That is not to say that you cannot gift them these classics, but why not try personalizing them to make them extra special. Another idea would be to gift them something that aligns with their hobbies and personal interests. So, if your friend loves to cook and chef it up in the kitchen, then why not buy them some chef hats from chefworks.com. This is a great way to show them that you listen and care.
3. Go handmade
A gift is not necessarily something to be bought and sold. A gift can also be something that you make from scratch. So, why not give them something handmade. The options are truly endless! Examples of handmade gifts include:
Homemade bath bombs
DIY oil perfume
Homemade jewelry (e.g., necklaces and bracelets)
Handmade soap
Homemade sweet goods (e.g., cupcakes, pies, tarts, and puddings)
Putting your homemade twist on a gift will make it so much better!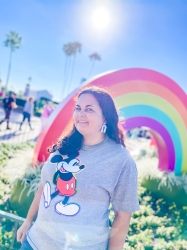 Latest posts by Krystal | Sunny Sweet Days
(see all)