Small Bedroom Space? Make the Most of It with These Tips!
If there is one thing that teaches you the true value of your space it's not having any. When you are living in a property with a much smaller main bedroom than you expected to have, you have to get creative. The space that you create needs to bring value and it needs to hopefully give you room for everything that you own, even if what you own has to fit into a much smaller area. It's nice to add mirrors to create the illusion of space, but the reality is that you need to get used to living in a smaller bedroom with smaller spaces and that means maximizing storage and getting creative with it.
You can implement custom shelving systems to help you to figure out where you put your clothes, and you can also implement space saving organization tips that will help you to manage a space that you do have while creating new space out of thin air. Either way, you have to look at the space that you've got and start being smart about the way that you use it. So, with this in mind, we've got some organization tips that make your small space feel much bigger than it really is.
Utilize the space under the bed. First things first, is using the space that you have underneath your bed. The bed is about more than just sleep. There is an open and useful space just beneath it for you to be able to use. You just have to be clever about the way that you use the space in the first place. For example, under bed storage is actually available in most hardware and furniture stores, because even creators can see the value of underbed storage. Purchasing shelves that you can slide from under the bed will give you the under bed storage system that you need. There are some beds out there that actually lift up so that you can access your things in an instant. Even if you don't have one of these particular beds, you can still invest in the right draw systems so that you're under bed storage become something more useful.
Don't forget the value of a simple bedside table. Most people with smaller bedrooms would say no to bedside storage because of the fact that it takes up space, but the key here is in looking at the type of bedside table you use. For example, you don't have to have a fixed website table that fills up half a wall. There are plenty of options such as shelving units on a shelf bracket. a shelf bracket with a piece of cute wood nailed to it to secure it can be your bedside table. You only need enough space for your cell phone, your glasses and a glass of water before you fall asleep.
Use all of your door spaces. Do you have wardrobe doors and bedroom doors in your room? Of course you do! You can actually use these as storage spaces by simply ensuring that you have hanging systems on the backs of the doors. Hanging storage can give you space for handbags, jackets, accessories such as scarves and belts, and anything that has a hook can be stored on the back of your door. Consider the way that you use the space on the back of the door though, because you could also use it for shoe storage on the inside of the wardrobe doors, and you can even hang up trousers or items on a hanger that you plan to wear such as dresses. The best part about back of door storage is that the real estate that you are using is nothing on the floor. That means you keep maximizing your small bedroom floor space as much as possible while being able to store all of your things.
Consider rolling your clothing. If you don't happen to have a full wardrobe hanging space, then you should consider rolling your clothing and storing it in drawers. Rolling your shirts or blouses can save much more space in your wardrobe rather than having things hanging up. Or you need to make sure that you have a good ironing board and an iron so that you can iron out any creases when you do want to actually wear the blouse. The idea is that your clothing can stay in the smallest possible space and you get to maximize the storage that you have.
Vertical not horizontal. Bedroom with shelves and furniture that is arranged closely together doesn't look particularly nice if you want to free up as much floor space as possible so that it looks calm in your bedroom and not too busy. Too much stuff on the floor on one small floor space is never a good way to go, but you can draw the eye up by creating vertical storage. Not only will this save some space, but it will also make it seem a much bigger space to be because you are freeing up floor space. Yes, your walls will be covered in storage, but at least your floor will be free for you to move around.
Use bookshelves on the walls instead of cases on the floors. It's nice to have your own personal library, and it can be heartbreaking to give away all of those books just because you don't have room. Instead of worrying about your space, start using floating shelves above your head. Just make sure that the shelves are secured properly because the last thing you need while you are asleep is to have your books tumbling down on you when the shelf collapses. Conventional bookcases can take up too much room, even if they do look nice.
Create photo canvases. While it might be nice to have photographs in frames on top of all of your surface, the idea is to minimize how many surfaces you are using with all of your stuff. By creating a collage canvas, you can ensure that all of your photos are still on display but without interrupting all of the tops of your draws or your shelving units. It's a good way to be able to make your things stand out and look good without taking up too much room.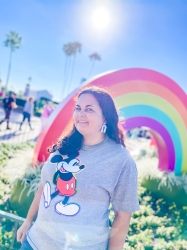 Latest posts by Krystal | Sunny Sweet Days
(see all)