How to Save Money on a Wedding Cake
The wedding cake is no doubt one of the tastiest parts about the wedding, so choosing the perfect one is key. But how can you choose the perfect one, and one that is also in your budget? Take a look below at some helpful tips for how to save money on a wedding cake. When you give these tips a try, you can still score a taste that is beautiful and tasty, for less!
How to Save Money on a Wedding Cake
1. Fake it. What? Fake it? Yes, fake it! Many brides are using a faux cake to sit on the cake table for guests to admire as they come in. The bride and groom then cut a small, custom cake that has been made for them, and the guests are served sheet cakes that are cut out of sight of suspicious eyes. It really is the perfect plan, and saves you the cost of a massive, decorative tiered cake.
2. Take the cupcake route. Cupcakes can be made in hundreds of flavors and decorated so many ways, so it is no wonder that many brides are opting for them. They traditionally cost less than a tiered wedding cake, and can be just as pretty. Talk to your bakery about wedding cupcake options.
3. Have a sweets table. If you have a candy bar or sweets table, you may be able to eliminate cake all together. You can have a small cake for the bride and groom to cut, but allow guests to satisfy their own sweet tooth at the candy bar. An assortment of candy not only adds a decorative element, but eliminates the cost of a cake.
4. Find an amateur. There are so many bakers out there who do fun cakes as a hobby. Search one of these people out and see what they can offer you. Chances are, their recipes are just as tasty and their skills are great, plus they will offer the cake for less than a fancy bakery would.
5. Cut your own. Find a family member who is willing to cut and serve the wedding cake for you. If you ask the hall or event center to provide a person, chances are they will charge you a cutting fee. Save the cash instead and have a family member or friend take over the task.
6. Skip the fondant. Fondant is no doubt lovely, but will cost you more than traditional frosting. Most people also prefer the taste of frosting over fondant, so save some cash and their taste buds when you opt for a simple butter cream icing.
7. Set realistic expectations. Everyone wants the 5 tiered, fondant covered, gold flake accented cake drizzled with sugared lilies and roses. But you should still be realistic. Focus on flavor, and use inexpensive fresh flowers and colorful ribbon to add the decorative touches to your cake.
Give these tips a try and you are sure to save money on your wedding cake while wowing your guests at the same time.
This is the next article in a series about wedding budgets and DIY for busy brides. Prepare to read a few tried and true tips to planning a wedding this week! I hope that it helps and inspires you to plan your own fete or share with a friend who needs a few ideas. Happy planning the wedding of your dreams!
Want more wedding tips? Read on!Budget Wedding Tips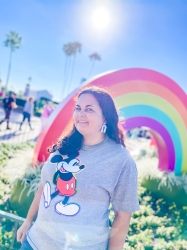 Latest posts by Krystal | Sunny Sweet Days
(see all)