Colorful Candy Party With Surprise Balloons
Celebrating a little one's special day is so fun! From picking the picture perfect theme to decorating, the details are what make the party planning process so fun. We were able to set up a fun tablescape for a birthday party with a colorful vintage theme. Party planning was a snap with new Hershey birthday-themed products! From goodie bags, games for your guests, and these fun colorful displays, this simple party offers a punch of color and a lot of room for creativity! Keep reading for a birthday surprise balloon tutorial and celebrate Birthday parties with Hersheys.

New Hershey's Kisses Birthday Cake Candies to Reese's Peanut Butter Cups Miniatures to iconic Hershey's Kisses Chocolates, your favorite Hershey products are now available designed for the birthday. They are sure to sweeten any celebration. The new Hershey's Kisses Birthday Cake Candies pack the taste of birthday cake into just one bite and complete with a satisfying crunch are perfect for any birthday theme.

New Hershey birthday products are dressed in their party-best, including Hershey's Kisses Chocolates in brightly wrapped foils to fit a variety of birthday themes and help make the day that much sweeter. Making your little one feel extra special on their big day just got easier with Hershey birthday products that can be added to almost every aspect of the celebration, whether it be in party favors, special treats, in games and prizes, or part of the decorations.

You can find the full line of birthday-themed products from Hershey in the Celebrations aisle at Walmart stores nationwide and most birthday-themed products at other select retailers.
Products include:
Hershey's Kisses Birthday Cake Candies
Hershey's Kisses Chocolates
Reese's Peanut Butter Cup Miniatures
Hershey's Assorted Miniatures
Kit Kat® Miniatures
Jolly Rancher Lollipops
Birthday Surprise Balloons – To add a fun favor to your birthday party celebration, make surprise balloons! You can do this with ANY of the candies listed above. It's so simple to do!

You can use matte balloons or clear balloons. Simply slip candy through the balloon opening before blowing up to display on your table. Instead of a piñata, you can pop balloons or simply use them as a silly party favor!

Party Decor highlights colorful candy.
Paint mason jars for vases or candy bowls. Create a candy buffet with the different colors of kisses.

Use handmade flowers instead of real blooms for a vintage touch. These were made with brooches on pipe cleaners.

How do you add flair to your birthday parties?
Be sure to CELEBRATE with these new products!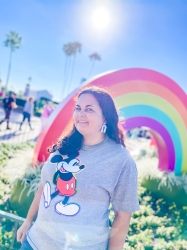 Latest posts by Krystal | Sunny Sweet Days
(see all)