How To Make Your Home Outdoor Space Stand Out
There's no denial about the fact that creating the perfect outdoor space can be somewhat challenging. But, the beautiful part of it all is that you can always turn your balcony, deck, or patio into a seamless extension of your house when you make use of some thoughtful arrangement, use the right accessories, furniture, and plan well; regardless of the kind of space, you're starting with. Truly, having an outdoor haven right outside your doors is such a delightful thing and, we all do understand that a very fine way to bring family and friends together is via an inviting outdoor space.
Nevertheless, there are several tips and ideas you can always explore to rejuvenate your outdoor space to bring out the beauty in it and make it look more appealing and inviting. And, here are some of these great ideas:
Decide How You'll Use The Space
Before your focus starts shifting to specific furniture or features, it's important that you first think of what to do with your space. Seek clarity first! Are you planning to use your outdoor space for sunbathing, entertaining guests, cooking, dining, relaxing, or even all of the above? Your outdoor space may just be a place to sit and relax if it's a small apartment balcony but you can turn it into a multi-use space if you have a sprawling patio with a pool and a gazebo. Most times, it's the size of your space that will guide your decision. Know what you want to use your outdoor living space for before you start getting too far into the design process. 
You might also want to add an umbrella, and Watson's patio umbrella for sale is a great start!
Think About Your Aesthetic
It's actually very nice if your home's style flows from inside to outside and even though your home's interior and outdoor decor may not be identical, there's nothing wrong with your outdoor space oozing a similar feel to your interior. What do you want the general look of your outdoor space to look like? It's up to you to decide.
Create Your Layout
The dimensions of the things you're planning to buy can still help you measure things out, even if you're yet to get your desired new stuff and you'll be confident that you're buying fitting fixtures, decorations, and furniture when you know how much space you have — note that it's still possible to do some layout planning early in the process when you're planning to buy all sorts of new décor or you're working with what you've got.
However, when you're creating your layout, it's important that you're conscious of a few things. Foremost, leave pathways that allow for movement; secondly, orient your seating space well if you have a beautiful view or an outdoor pool; and lastly, ensure that your setting encourages the reduction of travel time to the indoor kitchen if you have an outdoor cooking area.
Switch Up The Lighting
You can impact the ambiance massively and imbibe a relaxing atmosphere with the proper lighting. Although there are several ways to enhance your space by utilizing lights, using a LED shoebox can actually complement your set-up design and even make it more appealing. However, it's also not a bad idea to use some sparkling string lights or add downward facing lights. If you would love to be unwinding in your space during the evenings, lighting is a strong factor you must be conscious of.
Hang A Porch Swing
Both children and adults find porch swings to be enjoyable and a porch swing does offer an opportunity to unwind and appreciate an evening under the stars
Install An Outdoor TV
You and your guests can always enjoy catching the big games in your outdoor space when you have an outdoor TV. Sincerely, your patio can really look quite better and pleasing with a TV and you can even be more confident about hosting a tailgate party. Nevertheless, TV installation methods are usually different based on the patio. But, make sure your visitors can view the screen at multiple angles and as you plan to mount your TV, you should also be careful not to place it where it will receive too much direct light.
Touch Up Your Paint
You should consider adding a splash of color if you really intend to make your space stand out. Wherever that appears chipped or worn; maybe the windows or fence, just get them touched up if you only want a minimal change. A great way to refresh your background is by painting.
Transforming your outdoor space into a unique haven could be quite challenging but you shouldn't forget to create a focal point and invest in pieces you'll truly enjoy.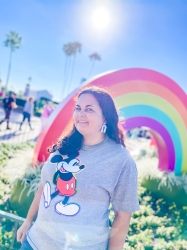 Latest posts by Krystal | Sunny Sweet Days
(see all)