How to Transform Your Backyard into a Beautiful Oasis
With the arrival of warmer weather, it's time to transform your backyard into a paradise that you can enjoy all year round. Whether you want a private retreat to escape the stress of daily life or an entertainment space to host friends and family, upgrading your backyard is the perfect solution.
This article will give you some tips and tricks for transforming your backyard into a beautiful oasis.
1. Create an Outdoor Living Space
The first step in upgrading your backyard is to create an outdoor living space. This can be as simple as adding a few pieces of outdoor furniture or as elaborate as building an outdoor kitchen.
The key is to create a space that is comfortable and functional, allowing you to relax and enjoy the outdoors.
Adding a patio or deck is a great way to create a designated outdoor living space. This can be achieved by using materials such as natural stone or composite decking to create a solid base. Pair this with comfortable outdoor furniture, such as a sectional or comfy chair, to create a cozy and inviting space.
2. Incorporate Water Features
The sound of running water can instantly transform your backyard into a serene oasis. Adding a water feature, such as a fountain, pond, or waterfall, is a great way to incorporate this element into your outdoor space.
Water features add an aesthetic appeal and provide a soothing ambiance that can help reduce stress and anxiety.
If you want a low-maintenance option, consider a self-contained water feature, such as a fountain that recirculates the water. For a more elaborate option, consider a pond or waterfall that can be integrated into your landscaping.
3. Add a Greenhouse
If you have a green thumb, adding a greenhouse to your backyard is an excellent way to grow your plants and vegetables.
A polycarbonate greenhouse is ideal, as it is lightweight, durable, and can withstand extreme weather conditions. 
A greenhouse allows you to grow a wide variety of plants, regardless of your climate. This can be especially useful to people who live in an area with a short growing season, as a greenhouse allows you to extend your growing season and produce fresh fruits and vegetables year-round.
4. Install Outdoor Lighting
Adding outdoor lighting to your backyard is a simple yet effective way to enhance its ambiance and functionality. Outdoor lighting adds an aesthetic appeal and increases safety and security.
There are a variety of lighting options to choose from, including string lights, spotlights, and lanterns.
String lights are a popular choice, as they are easy to install and can be draped over trees, pergolas, or fences to create a warm and inviting atmosphere.
Spotlights are ideal for highlighting specific features in your landscaping, such as a seating area, water feature or statue. Lanterns are also a great choice, as they can create a soft glow and provide a more intimate setting.
5. Create a Play Area
If you have kids, consider creating a play area in your backyard. This is a great way to keep them entertained and active all year round. This can be as simple as adding a swing set or as elaborate as building a treehouse.
The key is to create a safe, fun, and functional space. Consider adding soft padding to the ground to reduce the risk of injury and choosing equipment that is age appropriate and suits the interests of your children.
You can also add a sandpit, a trampoline, or a playhouse to make the play area more versatile and engaging. Creating a play area in your backyard can encourage your children to spend more time outdoors and enjoy the benefits of fresh air and physical activity.
6. Incorporate Landscaping
Incorporating landscaping into your backyard can add color, texture, and depth to your outdoor space. Planting trees, shrubs, and flowers can create a lush and inviting atmosphere that can be enjoyed year-round.
Consider choosing plants native to your area, as they are typically low-maintenance and can thrive in your climate. You can also add hardscaping elements, such as retaining walls, pathways, or garden beds, to add structure and interest to your landscaping.
7. Create a Fire Pit
Creating a fire pit in your backyard is a great way to add warmth and a calming ambiance to your outdoor space. Depending on your budget and preferences, a fire pit can be a simple DIY project or an elaborate installation.
Various options include a traditional wood-burning fire pit, a gas-powered fire pit, or an outdoor fireplace.
A fire pit can be a focal point for gatherings with friends and family and can be used to roast marshmallows, tell stories, or simply relax under the stars.
8. Add Outdoor Art
Adding outdoor art to your backyard is a unique way to upgrade your space and express your personality. Outdoor sculptures, wall art, and even murals can transform your backyard into a gallery you and your guests can enjoy.
You can choose from various materials, such as metal, stone, or wood, and select pieces that complement your landscaping or serve as a focal point for your outdoor living area.
9. Build an Outdoor Kitchen
Building an outdoor kitchen is a great way to enhance your backyard and create a functional space for cooking and entertaining.
An outdoor kitchen can range from a simple grill and countertop to a fully equipped cooking station with a sink, refrigerator, and bar area. You can choose from various materials, such as stone, brick, or tile, to match your landscaping or create a distinct style.
An outdoor kitchen can be the perfect place to host barbecues and dinner parties and can also increase the value of your home. With an outdoor kitchen, you can enjoy the benefits of cooking and dining outdoors while creating lasting memories with friends and family.
10. Add a Hammock Area
Adding a hammock area to your backyard is a simple and affordable way to create a relaxing and inviting space. A hammock can be hung between two trees or posts, or you can install a freestanding hammock stand.
You can choose from a variety of hammock styles and materials, such as cotton or rope, to match your outdoor decor. A hammock area can be a great place to nap, read a book, or simply enjoy the beauty of your surroundings.
With a hammock, you can add a touch of relaxation to your outdoor living space and create a peaceful oasis in your own backyard.
11. Take Care of Your Lawn
An essential part of maintaining a beautiful backyard is taking care of your lawn. A well-maintained property can be the perfect complement to your landscaping and outdoor living space.
Regularly mowing, watering, and fertilizing your lawn can keep it healthy and vibrant. You can also aerate your lawn to promote healthy growth and prevent soil compaction. Additionally, removing weeds and debris can keep your lawn looking neat and tidy.
Conclusion
Upgrading your backyard can transform it into an oasis you and your family can enjoy all year round.
From creating an outdoor living space to incorporating water features, adding a greenhouse, installing outdoor lighting, etc., there are plenty of ways to enhance the functionality and aesthetic appeal of your backyard.
With a bit of creativity and effort, you can transform your backyard into a paradise. So why not start today and enjoy the benefits of an upgraded backyard for years to come?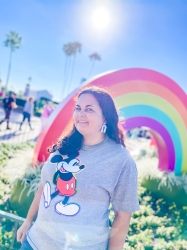 Latest posts by Krystal | Sunny Sweet Days
(see all)