Here's How To Make Your Dining Room Look Stunning
Every single room in the house has a purpose but one room that often gets left behind as the last on the list is the dining room. The dining room is, however, a very important room in the house. It's the space in which you can all come together to eat properly as a family and it's a space to socialize and play games. Without decorating the dining room, you're leaving an important room of the house a pretty empty space!
The choices that you make for decor in this space really do matter, and the most impactful way you can renovate your dining room includes the walls – they're the bit that you see first! You have to pay attention to the decor that you choose here, as this is a room you decorate for guests as much as you do yourself. It's a place to entertain, so whether you focus on the Sogni Di Cristallo chandelier or you think about replacing the fixtures, you want to do this well! No matter your style, you want to be bold and do this well so let's take a look at some of the best tips you need to make your dining room look stunning!
Design. If you choose to go contemporary with your dining room, it's easy to assume that your style will be cold and unwelcoming. It's not the case, though! A contemporary style can mean airy and light, well-finished space that is luxurious and sophisticated all at once. Consider the floorplan and shape of the room so that you can utilize the natural lighting as much as possible while hanging that luxury chandelier that you hang, too. The design of the room really does matter!
Placement. The worst thing that you can do for your dining room is overcrowd and clutter the space. You can enjoy the space without it being full of antique junk and end tables. A dining room needs space for people to move around, so don't get a huge table that fills the room. You should also choose one side table for food overflow and a drinks cabinet, but overcrowding the space is a bad idea!
Pattern. You should experiment with patterns but again, no overcrowding please! You want this room to be beautiful and if you want to incorporate patterns without going overboard, consider a wall print or a rug. You may not want to put too many patterns in one space and it makes sense!
Color. How light is your dining room? How big is the space? You should consider the size of the room as well as how bright it is naturally, as this will impact what color you choose for the walls. If you want the room to look bright, choose to go for a lighter color to reflect that. Small dining rooms should avoid darker colors, as these will make the room look cramped and crowded.
Your dining room deserves your attention. Try these tips to get you started!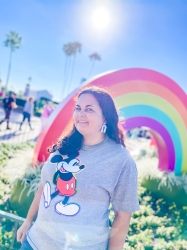 Latest posts by Krystal | Sunny Sweet Days
(see all)