5 Brilliant Ways to Plan for Furniture Shopping on a Budget
Buying a home is one of the most significant investments you can make if you want to achieve living security. And with the benefits that come with homeownership, you should start planning on how to buy your dream home now.
Of course, the thought of homeownership is fascinating, but the question is, are you ready? Becoming a homeowner is easier said than done, and the whole process, if not planned for properly, can be overwhelming. With this, you ought to factor in various things such as cost, location, family size, and social amenities, to mention a few.
If you feel like you are ready to buy one, you are likely to ask yourself what kind of furniture you will have. Answering this question means looking at various things such as your budget, lifestyle, and the sort of pieces you want.
Your budget will significantly impact how well you will furnish your house. Working with a budget doesn't mean that you should sacrifice quality. Surprisingly, you can settle for quality pieces even when on a budget.
Hunting for the best pieces while on a budget can be daunting. With the following tips, the whole process can seem like a walk in the park. Read on!
Know Your Lifestyle
It would be best to let your lifestyle determine what kind of furniture you can get while working with a budget. Your lifestyle is the way you live. This includes your possessions, preferences, attitudes, opinions, and many others.
Money is the significant determinant of a person's lifestyle. If you prefer expensive things in life, you should be financially stable to afford such a lifestyle. If not, you ought to work with what you have. Your lifestyle will not only affect the kind of pieces you choose, but it can also affect the material and color.
Your lifestyle also depends on whether you have kids and pets. So when choosing furniture, you should go for what meets their needs. For instance, it is only natural for kids to play. With this, you should select easy-to-clean items. White can make your dining room look stunning, but this color is out of the question with toddlers.
Have a Goal
Like any other project you set out to achieve, having a goal is vital. It can help you stick to what is essential and ensure you get what you need. Therefore, if you are on a strict budget, you ought to have a goal in mind.
Did you know that the kind of furniture you buy for your house can also help you achieve other goals in life? Wondering how? Having an organized pantry can help you achieve and sustain a healthy lifestyle. The kind of furniture you have in your home office can also impact your productivity levels.
Your home reflects who you are in life. And to ensure you portray a better version of yourself, it would be best to have a goal in mind when buying furniture.
Be Ready to Adjust Your Budget
The real sense of budgeting is to have a spending plan of the money you have at your disposal. It also ensures that you buy things that are important to you. However, you can never be too sure about the future. When sudden changes happen, adjust your budget!
And by change, it does not just mean negative changes; change can also be positive. Your life can change on a dime where you may get a sudden pay rise or bonus at work. It can also change on a windfall where a family emergency may arise, and money is the only solution.
If such changes take place, it won't make any sense to continue sticking to a budget. If you get a pay rise, it is only natural for you to think of getting more expensive furniture and vice versa.
Be on the Constant Lookout for Discounts and Sales
You can definitely get quality items that have great deals and discounts. Discounts and sales are a great way to save money, and if you have a budget you must stick to, it would be best to keep an eye on such deals.
All too often, most stores will advertise when they have such deals and discounts. However, it can be easy to miss out on such opportunities, especially if you have a busy schedule. Therefore, you should go the extra mile and research such deals.
You can do this by following notable brands on their social media platforms since they always announce such sales on their platforms. When going shopping, you should inquire from workers and cleaners about any deals likely to happen.
When you combine discounts and sales, you can buy quality furniture for less. Don't be in a hurry! Take your time to research the deals available. It is very likely to find the same furniture at different stores with far much better deals.
Research Thoroughly
If there are no deals to take advantage of, you must do thorough store research to stick to your budget. Don't just simply buy your furniture from the first store you notice. It would be best to start by window shopping where you can compare costs and quality.
The only exception you have for not researching other stores is if you find a unique item you desperately need and falls within your budget. Anything short of that can limit you from keeping up with your budget.
Ensure that you research both online and offline. Lookup multiple online stores to get an insight into the kind of prices to expect when you walk into a store. While at it, look at delivery costs and taxation and do your math.
When researching stores, you should also factor in various recommendations. Maybe your friends or neighbors can suggest a particular store that sells high-quality furniture at reasonable prices. Besides, they may even know of someone having a garage sale.
Note that it is always wise to buy furniture that you genuinely love rather than merely buying whatever cheap item you come across.
It would be best not to sweat it while trying to find the right items for your house. Whether you are moving into a new home or you want to update your furniture while sticking to a budget, the above tips are a surefire way to make this a reality.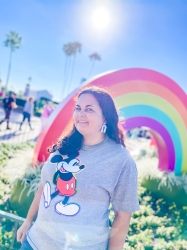 Latest posts by Krystal | Sunny Sweet Days
(see all)