FAGE Yogurt Bar | Fruit and Nut Yogurt Recipe Ideas
This post is sponsored by Everywhere Agency on behalf of FAGE; however, all thoughts and opinions expressed are my own.
To celebrate the return of the busy back to school season, I know that you need to feel inspired with easy to create recipes. I've got you. I want to show you how simple it can be to indulge without those decadent sweets, and everyone in your family will love it too. If you're a fan of Greek yogurt, and even if you haven't tried it quite yet, you will love these flavor combinations!
I was first introduced to FAGE Total Greek Yogurt through a sale at my local grocery store. I stocked up, and I've been hooked ever since! I looked for FAGE Total 0% Greek Yogurt to create a savory sweet snack bar. You can find FAGE at a store near you if you haven't seen it yet.
Yogurt Bar Toppings
For my yogurt bar, I wanted tropical fruit. It might not be summertime any longer, but I crave those punchy flavors! Bananas, strawberries, kiwi, and pineapple came together easily. I also used plain almonds and walnuts for added crunch.
The star of the show is, of course, FAGE! I use the 0% for a non-fat base, and I love the creamy texture. It's an all-natural Greek strained yogurt and is Non-GMO Project Verified. Plus, it's gluten-free, additive and preservative free, and has no added sugar.
The first creation in our yogurt bar was kiwi banana. This is a combination you typically cannot buy in a yogurt carton, plus it's WAY more fun to make on your own! You can enjoy this as a fast breakfast on the way out the door, but Greek yogurt is filling enough to make this a fun lunch or after-school snack.
Another idea is to pair strawberries and freshly sliced pineapple. We live in Florida, so I try to use locally sourced produce if available. We are known for having sweet strawberries, so I stock up when they are in season. The mild flavor of this blend is perfect for my son!
When you try this nutty kiwi blend, you'll fall in love. This one is for mama! I love the sweet fruit flavor paired with the creamy blend of FAGE and diced nuts.
It's hard to deny the yogurt bar! It's so simple to set up, and you can save time by using precut fruits and portion-sized pouches of nuts. I like the larger size FAGE so we can use it throughout the week.
FAGE is protein-rich and made with only milk and live active yogurt cultures, plus it's a good source of calcium. It's a smart choice for snacking. You'll feel like you're indulging on something much sweeter with these pairings!
Which flavor combination is your favorite? Have you ever tried FAGE before?
Breakfast Recipes to Try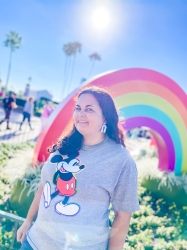 Latest posts by Krystal | Sunny Sweet Days
(see all)