Florida Fishing: Islamorada Charter Fishing
I may have grown up in Florida, but I didn't earn my sea legs until I was an adult. I never really took cruises or explored the Gulf of Mexico on a boat until I was much older. Keep reading for a list of my favorite Florida fishing spots along with a few tips for conquering a deep sea fishing adventure!

I might be a bit skittish of snorkeling or scuba diving, but fishing is the one thing that I can do. However, if you've experienced the up and down motion of a fishing charter boat you might be able to relate. Being far out into the water, moving frequently to cast our lines, and sitting in the boat while we rock back and forth can make anyone a little bit queasy. We love living near the Gulf of Mexico and regularly take trips to the Florida Keys for fishing adventures. Planning on fishing on your trip? Don't forget to secure Shake N Bait Charters!

We headed out on a fishing boat outside of Islamorada in the Florida Keys to explore!
What is Shake N Bait?
The Shake N Bait is a Cavileer 44 Convertible, perfect for cruising, fishing, and having a good time. There is a 60 gallon live well, and there is room for families and fisherman!
What fish can you catch in Islamorada?
 Whether you book a half-day charter to a full day excursion, there are SO many fish that you can catch in the Florida Keys. Plus, they clean, filet, AND bag the fish for you. Make sure to bring an extra cooler with you so that you can take it with you. There are also local companies available that will help you ship the fish home. Even better, many Islamorada restaurants will cook your fish that day too.
 Islamorada Fishing
Sailfish (catch and release only)
Marlin (catch and release only)
Swordfish
Wahoo
Dolphinfish (mahi mahi)
Grouper
Red Snapper
Yellowtail Snapper
Albacore Tuna
King Mackeral
Cobia
Amberjack
Shark
When you charter a boat in the Florida Keys with a captain, you will be taken directly to the locations that work best for you and your goals for the day. The boat captain is well-versed in the area and knows where the local hot spots are. PLUS, they know what the local laws are regarding fishing and your daily limits so that you can make sure that you follow fishing regulations. Your fishing charter will also make sure that you have a valid fishing license, and that is included in the cost of your trip.
What does a fishing charter include?
All bait, tackle, rods, reels, licenses, ice for the fish, and drink cooler. The first mate will clean and bag your catch at the dock.
What should I bring on my fishing trip?
I always bring a camera, pack my own lunch, wear a hat, and have sunscreen on. I reapply throughout the day since the Florida sun can be brutal especially out on the water. The last two fishing charters I went on, I even took a motion sickness medicine. It did help! If you're not used to being out on the water, I recommend having it just in case. I love to wear those UV fishing shirts that are soft and cozy and help protect my skin in the sun as well.
Don't forget a cooler if you are bringing home your fresh caught fish!
I have a few seafood recipes if you want to cook your own catch! A few favorites are this Fried Snapper Recipe or you can try this Fried Fish Sandwich Recipe.
Do you like to go fishing? Have you ever visited the Florida Keys? 
Florida Travel Tips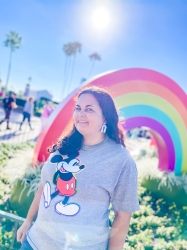 Latest posts by Krystal | Sunny Sweet Days
(see all)