Where Can Someone Go To Experience Still Untouched Nature?
There are many ways to experience untouched nature. You can go camping, hiking, or biking in the wilderness areas near your home. Or you can take a trip to one of the many national parks in the United States. If you enjoy fishing, there are plenty of places where you can catch trout and other types of fish in pristine waters. And if you love spending time by the water, thousands of miles of unspoiled coastline are waiting for you to explore. So, pack your gear, grab a map, and head out to experience the beauty of untouched nature.
1. Cruise in Antarctica
Cruising in Antarctica is an unparalleled experience that should be on everyone's bucket list. Antarctica is a nature lover's paradise with its glistening glaciers, towering mountains, and abundance of marine life. Cruising provides the best way to see as much of this icy continent as possible quickly.
Several different cruise options are available, from luxury expeditions with bells and whistles to more budget-friendly trips. Remember that Antarctica Cruises all the way from Australia or New Zealand are generally 10-14 days long, giving you plenty of time to explore the stunning untouched nature. No matter which cruise you choose, ensure they are committed to preserving the fragile ecosystem of Antarctica by following strict environmental guidelines.
The most popular time to cruise in Antarctica is during the summer months (November through March) when the weather is milder and there are more daylight hours. However, some people prefer to go during the winter when the scenery is blanketed in snow. Regardless of when you choose to go, you're sure to have an amazing adventure cruising through one of the most beautiful places on Earth.
2. Hike in Patagonia
If you're looking for an unforgettable hiking experience, look no further than Patagonia. This remote region in southern Argentina is known for its stunning mountain scenery and rugged, unspoiled wilderness. Hiking here is a true adventure, and the rewards are immense: towering glaciers, pristine lakes, thundering waterfalls, and miles of pristine forests.
Patagonia has plenty of trails, ranging from easy day hikes to strenuous multi-day treks. One of the most popular routes is the "W" trek in Torres del Paine National Park. This 5-7 day hike takes you through some of the most spectacular scenery in Patagonia. Other popular destinations include El Chaltén and Los Glaciares National Park.
If you're looking for a truly off-the-beaten-path hiking experience, consider venturing into Tierra del Fuego National Park or Aconcagua Provincial Park. These parks offer hikers unparalleled solitude and unspoiled beauty. Just be prepared for some challenging terrain.
3. Visit the Galapagos Islands
The Galapagos Islands are one of the most amazing and unspoiled places on Earth. Located in the Pacific Ocean about 600 miles west of Ecuador, they are a haven for wildlife. Volcanoes formed the islands, and because they are so isolated, the animals that live there have evolved into unique species that can be found nowhere else.
The Galapagos Islands are a popular tourist destination, but tourism is strictly regulated to protect the environment. Only a limited number of visitor permits are available annually, and a licensed guide must accompany all visitors. This ensures that the fragile ecosystem is not disturbed by careless tourists.
If you want to experience the beauty and diversity of nature at its finest, a trip to the Galapagos Islands is worth considering.
4. Explore the Rocky Mountains
The Rocky Mountains are a vast and rugged mountain range in western North America. They stretch more than 3,000 miles (4,828 km) from the northernmost part of British Columbia, in Canada, to New Mexico, in the United States. The Rockies are home to some of the most unspoiled nature in North America. If you want to explore untouched wilderness and experience some of the most beautiful scenery on Earth, the Rocky Mountains should be your first choice.
There are plenty of things to do in the Rockies. You can go hiking, camping, fishing, skiing, snowboarding, or sightseeing. Plenty of small towns are scattered throughout the mountains where you can find a place to stay and get something to eat. If you're looking for a more adventurous trip, you can explore one of the many trails that wind through the mountains. Some of these trails are quite challenging and require a good level of fitness and experience hiking in rough terrain. But if you're up for the challenge, they offer some unforgettable views and experiences.
5. Go on an African Safari
No matter how often you see pictures or videos of African wildlife, there's nothing quite like the real thing. And there's no better place to see African wildlife than on a safari. A safari is an unforgettable experience and one that will leave you with memories that will last a lifetime.
There are different types of safaris to choose from, so whether you want to focus on seeing lions and elephants or if you want to go for a more adventure-filled trip, there's something for everyone.
So if you want to get up close and personal with Africa's amazing wildlife, a safari is the way.
6. Take a Trip to the Amazon Rainforest
The Amazon rainforest is one of the most untouched and unspoiled places on Earth. It's a natural wonder that should be experienced by everyone at least once in their lifetime. There are many ways to take a trip to the Amazon, but the most popular is by cruise ship.
A cruise down the Amazon River offers visitors a chance to see some of the world's most diverse and unique wildlife. From monkeys and birds to pink dolphins and sloths, there's something for everyone to see in the Amazon. The rainforest is home to more than half of all the plants and animals on Earth, so it's where you can experience nature in its purest form.
The Amazon rainforest is also home to many indigenous tribes who have lived there for centuries. Visitors can get an up-close look at their traditional way of life and even learn about their customs and beliefs. It's an amazing opportunity to see a side of the world that few people ever experience.
There are many places in the world where you can witness untouched and unspoiled nature. Whether it's a remote island like the Galapagos or an iconic landmark like the Amazon rainforest, take the opportunity to explore and appreciate these beautiful places before they're gone. The Earth's natural wonders should be treasured and protected for future generations to enjoy. So get out there and see the world's untouched beauty before it's too late.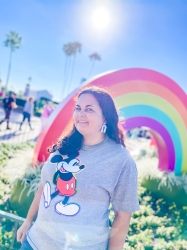 Latest posts by Krystal | Sunny Sweet Days
(see all)