How to Create Easy Calligraphy Art Prints
This post was sponsored by Derwent Academy as part of an Influencer Activation for Influence Central and all opinions expressed in my post are my own.
Calligraphy doesn't have to be complicated. If you're looking for a creative idea to spruce up your journal, home decor, or as a gift, here's how I used Derwent Academy products to add a little color to my everyday life.

Art was always one of my favorite classes, and I wish had taken the time to truly explore my creative side. As a child, I enjoyed painting, coloring, and writing. As I became an adult, I sort of lost myself in reading and radio (Yes, I spent a few years working at a radio station!). I never considered myself creative until I discovered blogging. I realized that everything I do requires a bit of an "eye" for creative work from the photography that I create to the doodles in my planner. Once I learned more about calligraphy and lettering, I felt like I had to learn everything that I could!

I have flipped through a few lettering books, watched artists create online, and I found a clever hack to create beautiful lettering in a hurry. The secret weapon? Derwent Academy Twin-Tip Markers!

I knew that these were going to be my favorite product to try since they were vibrant colors and perfect for my planner and my artwork. It is so important to use the right tools when you create so that you don't mess up your work! It also means that your work will have bright colors that last.
Easy Calligraphy

If you're ready to give this trend a try, you can use your computer to help you create letters you want to learn how to write. I created a simple printable to show you how you can do this yourself. Consider creating quote inspiration artwork using this hack!
Download and print out this 8.5″ x 11″ document. Using your Derwent Academy twin-tip markers, simply trace and fill in your calligraphy letters.

Even the beginning artist can create with this method.<
Derwent Academy has a full range of high-quality art products like Derwent Academy Colour Pencils, Derwent Academy Sketching Pencils, Derwent Academy Watercolour Pencils, and Derwent Academy Acrylic Paints. They want to inspire artists to create with their products!

These items are perfect for you whether you are an aspiring artist (including students or someone like me who is a hobbyist!) and want to refine and develop their artistic skills.

Derwent Academy can trace their heritage back to 1832. The Derwent brand has introduced Derwent Academy, which is a new line of high quality art products for individuals of all skill levels.
Are you ready to upgrade your art? Learn more about Derwent Academy here.
Do you know how to create calligraphy? What are your favorite artistic activities?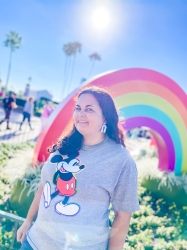 Latest posts by Krystal | Sunny Sweet Days
(see all)