Dubai Vibrant Attractions to Visit and Enjoy
Dubai is a vibrant city located in the United Arab Emirates, known for its luxurious lifestyle, world-class infrastructure, and stunning architecture. It is a city that attracts millions of visitors every year, offering an array of exciting experiences and attractions that cater to all ages and interests. If you're planning a trip to Dubai, there are plenty of places that you should include in your itinerary. One of the most iconic landmarks of Dubai is the Burj Khalifa, the tallest building in the world, standing at a height of 828 meters. Visitors can go to the observation deck on the 124th floor and enjoy panoramic views of the city. Another must-visit attraction is the Dubai Mall, one of the largest shopping centers globally, which offers a range of high-end brands, restaurants, and entertainment options. For those who want to experience the traditional side of Dubai, the Dubai Museum and the historic Al Fahidi Fort are excellent places to explore.
Other exciting places to visit include the Palm Jumeirah, an artificial island that is home to some of the most luxurious hotels and resorts in the world, and the Dubai Miracle Garden, the world's largest flower garden with over 45 million flowers. Finally, a trip to Dubai would not be complete without experiencing the thrill of the desert, where visitors can go on a desert safari and ride camels, quad bikes, and even go sandboarding. Whether you're interested in luxury shopping, cultural experiences, or adrenaline-pumping adventures, Dubai has something for everyone.
Dubai Frame
Dubai Frame is a popular tourist attraction located in Dubai, United Arab Emirates. It is a stunning architectural landmark that offers breathtaking views of the city skyline. Visitors can enjoy panoramic views of Dubai from the top of the 150-meter tall frame. To visit the Dubai Frame, tourists can purchase Dubai Frame tickets either online or at the ticket counter on-site. The tickets are reasonably priced and offer visitors access to the attraction's two observation decks, as well as a multimedia exhibition that showcases Dubai's rich history and cultural heritage.
The Dubai Frame is an excellent spot for photography enthusiasts looking to capture stunning shots of the city skyline. The observation decks offer uninterrupted views of the city's iconic landmarks such as Burj Khalifa, Dubai Fountain, and Dubai Mall.Overall, the Dubai Frame is a must-visit attraction for anyone visiting Dubai. It offers a unique experience that combines modern architecture, history, and culture. So, don't forget to buy your Dubai Frame tickets and add this stunning attraction to your itinerary.
Dubai Safari Park
Dubai Safari Park is a unique and exciting wildlife park located in Dubai, UAE. The park is home to over 2500 animals from around the world, including lions, tigers, giraffes, zebras, and more. Visitors can explore the park on foot or by taking a safari tour, which takes them on a journey through various habitats. To visit Dubai Safari Park, you can purchase tickets online or at the park's entrance. You can also find Dubai Safari Park Tickets Offers, which can save you money on admission. These offers are usually available for a limited time and may include discounts on admission for families or groups.
Once you've entered the park, you can explore the various attractions, including the African Village, Arabian Desert Safari, and the Safari Village. You can also participate in animal encounters and watch live shows featuring birds of prey and other animals. Overall, Dubai Safari Park is an excellent destination for animal lovers and families looking for a unique and exciting experience. Don't forget to check out Dubai Safari Park Tickets Offers to save money on admission!
Burj Khalifa
Burj Khalifa is the tallest building in the world, standing at a height of 828 meters (2,716 feet) in Dubai, United Arab Emirates. The tower was completed in 2010, and its construction took six years to complete, with an estimated cost of $1.5 billion. Burj Khalifa has a total of 163 floors and is considered an engineering marvel, with its sleek and elegant design that draws inspiration from Islamic architecture. The building serves multiple purposes, including residential, commercial, and entertainment. It has luxurious hotels, residential apartments, offices, and observation decks, which offer a stunning view of Dubai city. The tower also has a massive water fountain that performs a choreographed display to music and lights.
Burj Khalifa is a testament to the ambition and innovation of human beings. Its construction required extensive planning and cutting-edge technology, such as the use of a high-strength concrete mix and the installation of one of the fastest elevators in the world. The tower's construction also employed a large workforce, including engineers, architects, and construction workers, who worked tirelessly to bring this landmark to life. Overall, Burj Khalifa is a symbol of human progress and an awe-inspiring feat of engineering and architecture.
Dubai Fountain Show
The Dubai Fountain Show is a breathtaking display of water, lights, and music that takes place every evening at the foot of the Burj Khalifa, the world's tallest building, in Downtown Dubai. This spectacular show is a must-see attraction for visitors to Dubai, and it attracts thousands of people every night.The fountain features more than 6,600 lights and 25 colored projectors that illuminate the water as it dances to a variety of popular songs, classical music, and traditional Arabic music. The fountain is synchronized to the music, creating a stunning visual display that is both mesmerizing and unforgettable.
The Dubai Fountain Show is free to watch, and it takes place every half hour from 6:00 pm to 11:00 pm on weekdays and from 6:00 pm to 11:30 pm on weekends. The best viewing spot is from the waterfront promenade, which offers unobstructed views of the fountain and the Burj Khalifa. Overall, the Dubai Fountain Show is an incredible experience that showcases the city's commitment to innovation and creativity. It is a must-see attraction for anyone visiting Dubai and is sure to leave a lasting impression.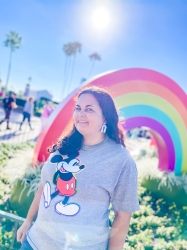 Latest posts by Krystal | Sunny Sweet Days
(see all)