Why Try Diamond Art Painting?
A lot of people are hooked on diamond art, and it's clear to see why. Not only does it offer an escape from everyday life, but it also allows you to feel like a true artist and have fun at the same time.
But this is not all you benefit from diamond art as this craft offers numerous other incredible benefits. It helps reduce stress and anxiety, allows socialization, and provides various physical and mental benefits.
If you still wonder why diamond art is so popular, getting a diamond dotz Canada could be an excellent place to start.
Below are surprisingly great benefits of diamond art painting in children and adults.
Improves motor skills
Concentrating on a task for a considerable amount of time has been shown to enhance concentration and motor skills. With this kind of art, a lot of hand-eye coordination is required as it involves picking up the tiny diamonds and placing them on the canvas.
This is especially very helpful in young children as they learn to concentrate and focus on tasks early.
Boosts confidence
Completing a diamond painting brings some feeling of accomplishment to both adults and kids. It gives you that extra bit of self-esteem and confidence you need. In children, that sense of accomplishment and confidence does good for their development and personality.
Reduces stress and anxiety
Diamond art allows you to sit back and relax. You can either do this alone or in a group.
Regardless, it allows you to switch off your brains from other thoughts and get in the moment. This helps you relieve stress and relax after an exhausting week or day. By choosing an image that you like, you really get into the experience and forget everything else. To a great extent, diamond art can be considered meditative art.
Enhances creativity
Working on DIY art helps stimulate creativity. Since diamond art kits have numerous different canvases to choose from, the experience helps you have different perspectives, spinning your creative side. It engages with your creativity without pushing you to feel like a skilled artist as it comes with easy to follow instructions.
It teaches patience and consistency
Diamond art indeed teaches some great traits. With it, you learn to be patient and consistent as it takes time to complete, sometimes up to weeks. It requires a lot of dedication and zeal as well to see the finished work.
Learning these qualities can help you and your kids a lot in life. You will be able to complete your tasks more effectively without feeling frustrated and impatient.
Become a part of a community
Diamond art painting is quickly growing around the world with numerous enthusiasts all over the globe. Once you start painting, you will find others who love art just like you do. Through various platforms, you can meet people who love it and even make friends with a couple of them.
They make great presents
A completed diamond art piece can be a perfect gift for art lovers. And since they come in many colors, sizes, and themes, you can create a customized gift that matches the recipient's taste.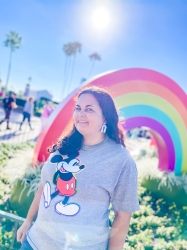 Latest posts by Krystal | Sunny Sweet Days
(see all)