Cruising with Kids: Tips for a Smooth Sailing Vacation
Ahoy there! Recently, cruising has become a popular vacation choice among families, thanks to the diverse sources of entertainment and one-of-a-kind adventure. Cruising with kids can be a delightful experience if you have the right resources at hand.
If you are planning your next cruise trip with your children, finding the best European family cruise is key. Besides that, you also need to be aware of the top practical tips to make the most out of your vacation.
This quick guide will help you familiarize yourself with the top tips you can follow to make cruising with kids a walk in the park.
Planning an Ideal Cruise Vacation with Kids
From choosing the right ship and cabin to planning activities and excursions, we've got you covered. Following are the top tips you need to follow to make your cruise vacation with kids a success.
Picking the right cruise line
When planning your family cruise vacation (with kids), picking the right cruise liner makes all the difference. Prioritize your budget but don't let it be the deciding factor.
With kids, you want to pick a cruise liner that's reliable, safe, well-equipped, and offers a wide range of entertainment to keep the kids occupied.
Additionally, you want to pick a ship that caters to everyone's likes and dislikes. So, while you are looking at the best activities for kids, you have to ensure that the cruise also offers good activities and entertainment for adults.
Research the Ports of Call
These include the ports where the cruise will halt and let you get off to explore the city or town you are in.
Not every port of call is equal. So, before you book your ride on the cruise, you need to cross-check their list of ports of call.
This enables you to plan your trip a little better, especially with the kids. You can check the available activities on the ports to help your kids learn more about a new place.
Keep food options open
If you have a picky eater, considering your available food options during your cruise vacation matters a lot too. Diverse menu which suit everyone's taste bud is an additional pleasure.
Also, if you want to make the whole experience memorable, chalk out the individual and exclusive restaurant options on the cruise and book a reservation ahead of time.
This will enable your child to enjoy a fun, family-friendly dining experience, which is again, one of a kind.
Know your entertainment options
Cruising with kids means your child will have to remain in the shop 24×7 unless the ship docks. If the cruise doesn't have good entertainment options, that will soon take a toll on your child.
Hence, check the cruise's entertainment options, play areas, and activities that are exclusively available for children.
Scoping out the options and planning an itinerary before the trip helps you keep everything in line and your child entertained throughout the trip too.
These quick tips should make planning your next cruise vacation with kids a seamless experience. Making the right moves and investing in the right cruise liner makes all the difference in the long run. So, what are you waiting for? Get your devices and get to booking.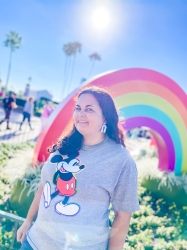 Latest posts by Krystal | Sunny Sweet Days
(see all)