A Master Mixer: How to Cultivate and Nurture a Love of Cocktails
There is something about having the best cocktails that immediately makes you feel like you've gained access to the high life. And this is something that we all could spend more time enjoying, but what about if you want to take it further and nurture a love of cocktails? While we've all had a passing interest in gin and tonics, or possibly something a little upmarket after a few glasses of our favorite vino, what does it take to really appreciate cocktails in the round? Here are a few things to consider. 
Knowing How to Make Cocktails
A great thing we can all do is start to cultivate more of a love for cocktails at home. Knowing how to make a cocktail is a fine art in itself, but if you want to learn how to create a nice cocktail for you to consume at home, you can start with one of the many mixology sets on the market, but then knowing what to make is another thing entirely. The fact is that cocktails come in different shapes and sizes and there's a lot to consider. For example, you may wonder whether you should add mixers like egg whites, but the fact is that you need to keep it simple at the very outset. 
Start with the classics because these provide the foundation that will lend structure to every cocktail experiment thereafter. When you are wondering what to make, the fact is that alcohol is the most important ingredient. Generally, the rule of making cocktails is that the "base spirit" should comprise 50ml, and you then add things on top of that. You don't necessarily need mixers, but if you are wondering if you should make something like a Manhattan, the classics will give you that base knowledge.
Make It Look Good
The important thing to remember is that cocktails are almost as much about the presentation as about the ingredients. You may want to get cocktail glasses that add that little something extra to proceedings, but you don't need to go over the top. A little bit of time and care are in your presentation by making a frosty glass or doing a lemon zest twist is just that thing to make it feel a little bit extra special. 
Getting to Grips With the Lingo
You can learn about all the great cocktails or get an amazing book that contains all of them in one, but if you really want to cultivate a love for cocktails, you need to venture out and get to grips with the variety of high-end spirits. When you are going to cocktail bars, you may very well know that "on the rocks" means that it's served with ice, but the term "up" means that it's shaken with ice and then strained out, which cools the drink ensuring the melted ice does not hinder the flavor. You will see this with drinks like Martinis and Manhattans. There's a great collection of cocktail lingo you can find right here. 
Find a Handful of Drinks You Really Love and Get to Grips With the Ingredients
You may very well love something like a Dirty Martini, but why is it dirty? A Dirty Martini is when the cocktail is mixed with brine and this adds a vinegary, acidic taste to the drink, and makes the cocktail cloudy. For someone who hasn't tried a Dirty Martini before, you might be surprised that this brings out the flavor. So when you start to find a handful of drinks that you love and also get to grips with the ingredients, you start to refine your palate, much like you would a cigar or a fine wine. When you start to get to grips with the ingredients, especially something like whisky, there is a whole world of possibilities. For example, in the world of whisky, do you know the difference between rye, bourbon, and scotch? Each has its own flavors, for example, bourbon is slightly sweeter, rye has a burning flavor, and scotch has a smoky flavor. Every single type of whisky has its own type of flavor, and will inevitably make a big difference in how the cocktail tastes in the end.
Furthering Your Education
You need to start with the simple art of making cocktails, because this will ensure that, above all else, you get the basics right. And after a while, you can start to think about what combinations of flavors will make you excited. Rather than making it more complex, those mixologists who want to further their education understand more than anything the value of a single ingredient. Every single thing you add to your cocktail makes a massive difference. For example, you can get a type of rum to add to your rum punch but there will be different brands of rum that add different types of flavor. Even something like lime will immediately alter the flavoring of your Margarita, and this is where it becomes so exciting because you've got so many different components that can alter the flavors that you have to start creating and furthering your education.
It's a long way to become an experienced mixologist, but it's an amazing skill that, unlike wine, involves you studying a huge variety of flavors and liqueurs. With wine or beer, you have one "subject" to draw from, but when it comes to cocktails, there's a lot more that you can draw from. The great thing about cocktails is that they can help you to be the master mixologist for dinner parties, but they can also help you delve deeper into a world full of flavor. So many of us drink cocktails without thinking about where they come from, but it is such a fine art that if you want to get involved in this world, there is a vast range of possibilities. Nurturing a love of cocktails is not going to happen overnight, but with the right resources, tools, and desire to learn, you can find your footing.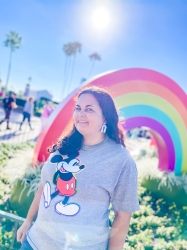 Latest posts by Krystal | Sunny Sweet Days
(see all)