Great Ways To Go Camping In Every Weather Condition
Camping is a great way to get out and explore nature. Whether you're looking for a peaceful weekend away, or an exciting adventure with friends and family, camping can provide the perfect opportunity to relax and enjoy some time in the outdoors. However, different weather conditions can present unique challenges – so it's important to be prepared when you're planning your next camping trip. In this article, we will take a look at some of the best ways to go camping in any type of weather condition.
1. Tents for high winds
Choosing the right tent for windy conditions is essential for a successful camping trip. If you're expecting high winds, make sure to select a tent with good ventilation and lightweight materials that can withstand gusts of wind without tearing or collapsing. A dome-style tent is usually the best choice when it comes to strong winds as they have less surface area which makes them more resistant to harsh weather. Make sure to secure your tents properly, using additional stakes and guylines if necessary. It's also important to choose a sheltered area where possible to avoid direct contact with the wind. Some of the top picks for the best tents for high wind can be found online and in camping stores. It's always a good idea to double-check the features and specs before investing in it.
2. Waterproof shelters in rain
If you're camping in rainy weather, investing in a waterproof shelter such as an RV or a pop-up tent is recommended. These types of shelters are designed to protect you from the elements and provide an extra layer of protection against the rain. Make sure all seams, windows, doors, and vents are properly sealed, as this will help keep the interior dry and free from dampness. Additionally, it's important to waterproof your clothes and sleeping bags with a good-quality spray or wax.
3. Shade in hot weather
If you're camping during summertime or in other hot weather conditions, shade is essential for staying comfortable outdoors. Look for sites that offer natural shadings such as trees or bushes, or invest in a canopy tent that can be set up easily and quickly wherever you need some extra cooling down space. Additionally, make sure to cover any exposed skin with sunblock and wear a hat for extra protection.
4. Insulation in cold weather
Next, camping during cold weather requires good insulation from the elements. Invest in a warm sleeping bag that can keep you comfortable even in freezing temperatures and pack plenty of layers of clothing to help you stay warm throughout the night. Additionally, using an insulated tent or tarp can also provide additional heat retention for colder conditions and help protect you from wind chill. It's also important to keep your fire burning throughout the night to provide some extra warmth and light.
5. Staying dry in wet weather
In wet weather, it's important to take extra measures to stay dry and protect your gear from moisture. Invest in a waterproof storage container such as a plastic bin or a tarp to help keep your belongings safe from the elements. Additionally, it's also essential to use waterproof mats when setting up camp and sleeping on the ground, as this will help keep you warm and comfortable while providing an extra layer of protection against moisture seeping into your tent or clothing.
6. Avoiding insect bites
Finally, camping in any type of weather condition can increase the risk of insect bites. To avoid this problem, make sure to use insect repellent with a high concentration of DEET and wear long-sleeved clothing when possible. Additionally, keep all food tightly sealed in containers and dispose of all garbage properly to reduce the chances of attracting unwanted visitors.
Why should you be prepared for all weather conditions before camping?
Camping can be a great way to bond with nature and get away from it all, but being unprepared for the weather conditions of your destination can quickly turn your dream into an unpleasant experience. By taking the time to prepare for all types of weather conditions before setting out on your camping trip, you can ensure that you remain comfortable and safe throughout your journey. From waterproof shelters in rain to shade in hot weather and insulation in cold weather, having proper gear and supplies on hand will help you make the most of any camping experience regardless of the elements.
Overall, camping in different weather conditions can be challenging but also very rewarding. By following these tips you'll be better prepared for any kind of weather and will have a much more enjoyable time on your next camping trip! So make sure to bring the right gear and utilize the tips we discussed above before heading out into the great outdoors. Happy Camping!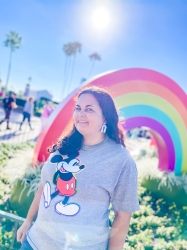 Latest posts by Krystal | Sunny Sweet Days
(see all)