Blogger Productivity Tips
There was once a time not so long ago (like two weeks!) where I worked a full-time job, managed a household, and ran this blog like it was my job. Well, it kind of is my job now, but I want to share a few ways that have maximized my productivity while juggling too many responsibilities. It is possible to work and manage a side business while spending time with friends and family. It is hard, I will not lie, but it can be done.
Blogger Productivity Tips
Use the right cell phone apps. Sometimes I find myself downloading way too many apps and not having the time to really learn them or utilize them. When you're trying to be productive, you may find yourself reading or learning too much about productivity to really BE productive. Keep it simple. On my iPhone I use Workflowy (basically a website with a ton of bulleted lists), Clear for my To Dos, Voxer for voice messages, and Calendars+ for my appointments. That's it.
Use the right space. Create an office that is clean, organized, and has space. I had been using a too tiny desk for WAY too long. I finally upgraded to a white desk from Sauder that has a keyboard drawer and a small drawer for supplies.
This computer desk was just $129. I received it in less than a week after it shipped, and it took about an hour for my husband to assemble. I supervised.
The assembly was a breeze since all of the pieces are lettered. We found that all we needed was a Phillips head screwdriver and a hammer, so with a little help from me, my husband got this desk up in about an hour.
The tabletop is nearly a foot and a half longer than my previous desk, so it is already a major upgrade. That and the fact that it is a bright white with silver accents really helps the overall look of my office. Now that I will be working from home regularly, I want a space that is really mine. A place that is relaxing, bright and colorful, and inspires me to work.
Have a paper calendar (and use it). It can all too easy to put reminders in your cell phone. I have found that if I also write down the major things that I have to get done, that I usually will do it. I try to write my TOP 3 MUST DOs down on a memo pad before I start the day.

Make the most of your weekends. Seriously. When I was working full-time, I don't know how I manage to juggle new content with photos every day. I just made sure to make the most of a Sunday morning. I'd cook breakfast, get my family up and ready, and I'd spend about two hours taking photos either in the early morning light or before sunset. The light is the best at this time, and I had everything set up ready to go to photograph. I would then spend the week editing pictures and writing. It is so much easier to get content up on the blog when the photos are already taken care of.
I also spend the weekends scheduling social media posts. I use Viraltag for Pinterest, Buffer for Twitter, and I usually manually just update Facebook and Google+. It's easier for me that way.
Find inspiration. I don't know about you, but I find the best blogging inspiration from magazines. Yes, Pinterest is great, but there is nothing like flipping through an issue of a colorful magazine. I read too many magazines, but Real Simple, Martha Stewart, The Knot, and Martha Stewart Weddings are my favorite. Yes, I'm already married, and yes, I still read wedding magazines. I can't help myself.
While Pinterest is a great tool online for bookmarking inspiration, I also use Pocket. It's an app/website that lets you "read it later." I have mine synced up with Tweetbot (Twitter app on my phone), so I can scroll through my Twitter feed and save links/tweets to read for later. It saves a ton of time! I also have several journals with blogging notes and ideas.
What are your best blogging productivity tips? Where do you write?
This is a sponsored conversation written by me on behalf of Sauder. The opinions and text are all mine.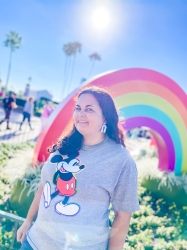 Latest posts by Krystal | Sunny Sweet Days
(see all)