5 Tips To Create The Perfect Home Office
When you work from home, it's not always easy to stay focused. To have the best chance of remaining productive, you've got to create the right workspace. To design the perfect space, follow these five simple tips.
1. Remove The Clutter
Working in a cluttered environment is hugely distracting. To improve your productivity, and your mood, you've got to remove the clutter. Sort through all of the items and get rid of the things you don't need. There are several sustainable ways to dispose of old items whether it's recycling, selling, or donating.
To help you declutter, consider using the 'Clutterfree' app. With the help of this app, you can make a customized plan, to ditch the clutter. Once the clutter is gone, it's time to start cleaning. Give everything a deep clean, and then add a few candles. For the workplace, scents like vanilla and ylang-ylang can help to boost productivity.
2. Add Indoor Plants
One study published in Science News concluded that 'Green offices with plants make staff happier and more productive than lean designs stripped of greenery.' The study involved comparing 'green' offices and 'lean' offices, monitoring productivity levels, and workplace satisfaction over two months. Indoor plants are also useful to improve the quality of your indoor air, plants filter out several toxins including formaldehyde and benzene.
3 . An Ergonomic Workstation
When you are creating a home office space, it's important to create an ergonomic workstation. Ergonomic chairs are especially designed to support the natural position of the spine and prevent injuries from sitting. An ergonomic keyboard can help you to avoid straining your arms and wrists as you type. Websites such as homeofficekiosk.com can provide more info about the best types of office furniture.
For further support, resources check out the Ergonomics app. The application provides advice about how to ergonomically set up your workstation. Ergonomics also offers tutorials about stretching breaks, and how to keep your body healthy, during the working week.
4. Remove Distractions
One of the biggest challenges of working from home is getting distracted, and so it's important to remove all distractions. Set up your home office in a quiet space, preferably in a room without a TV, and put your phone away. To help you remain productive it can be useful to try a few productivity tools. Platforms such as Rescue Time, Toggl, and ProofHub can help you to stay on top of your time management, and your projects. To keep your home business organized, you need the right tools.
5. Consider Use Of Color
The colors around us affect our moods and productivity, so it's worth considering which colors you use when you are creating your office space. Bright shades of yellow and blue are great to inspire creativity and energy. Using shades of green can help to create a relaxing and peaceful atmosphere. You could also choose a few pieces of art for your walls, to enhance your workspace.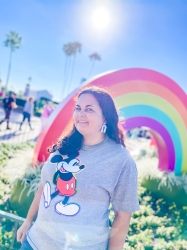 Latest posts by Krystal | Sunny Sweet Days
(see all)