Many people enjoy a glass of wine or a few beers to help them unwind after a long day. Others turn to natural, plant-based remedies like CBD oil. This has led some to wonder about combining alcohol with CBD and whether using them together could lead to increased relaxation.
This article explores the potential benefits and safety of CBD alcoholic drinks. Read to the end for some fun CBD cocktail recipes to try at home next time you're feeling creative.
What Is CBD?
CBD, or cannabidiol, is one of the hundreds of active compounds found in cannabis plants, including industrial hemp. Hemp-derived CBD is legal as per the 2018 Farm Bill, provided it contains less than 0.3% THC, the intoxicating chemical in marijuana.
Since the Bill was enacted, the CBD industry has skyrocketed, and you can now find the compound infused into a range of foods and beverages, including alcoholic drinks. Some of the available options include CBD and hemp-infused beer and liquor. But these products tend to be expensive and are generally seen as more of a novelty than an everyday purchase.
It is also possible to create homemade CBD alcoholic drinks by mixing CBD oil with your favorite cocktail. We've listed some of our best tried and tested recipes below. But first, let's look at CBD's potential benefits and uses and the current research on combining it with alcohol.
CBD Benefits and Uses
People use CBD for many reasons. Some of the most common are aiding relaxation and managing anxiety symptoms. There is research to demonstrate CBD's anti-anxiety effects in a number of conditions, and it has been hailed as a potential treatment for anxiety disorders. Even those without an anxiety disorder diagnosis may benefit from CBD's calming effects.
According to Harvard Health Publishing, CBD may also be useful for the following issues:
Insomnia
Chronic Pain
Inflammation
Arthritis
Addiction
CBD is also known for its excellent safety profile and low risk of serious side effects. However, it can interact with several medications, so it's important to check with a doctor before use. It is also essential to buy CBD oil from a reputable supplier that lab tests its products for purity and potency to ensure their safety and efficacy.
Can You Mix CBD With Alcohol?
There is little research specifically on CBD alcoholic drinks. However, one early study from 1979 had some interesting results. It compared the effects of alcohol combined with CBD with alcohol alone. The participants who took both substances displayed lower blood alcohol levels than those in the alcohol-only group. However, there were few differences between the groups in terms of the alcohol's effects.
More modern research has investigated CBD as a potential treatment for alcohol use disorder. Animal studies have shown several benefits, including reduced alcohol intake and motivation for drinking and lower levels of relapse, anxiety, and impulsivity. It seems that CBD could also counteract some of the long-term effects of heavy drinking, such as liver and brain damage.
These results are promising, but the FDA has cautioned against using CBD in combination with alcohol as it may increase drowsiness and sedation. Therefore, anyone indulging in CBD alcoholic drinks should consume them responsibly and avoid engaging in risky activities while under the influence.
It should go without saying that you should never drive or operate machinery while drunk, and this is even more relevant if you are combining alcohol with CBD.
Best CBD Alcoholic Drinks Recipes
CBD oil mixes best with blended cocktails as they ensure the CBD is distributed evenly throughout the drink and reduce oil separation. You can add it to any recipe you like, but here are three of our favorite CBD alcoholic drink recipes:
CBD Banana Daquiri
This sweet cocktail offsets the bitterness of CBD oil perfectly. And with a whole banana blended into each serving, it is a decadent way to increase your fresh fruit intake for the day. This tropical treat is traditionally served in a hurricane and garnished with wedges of fresh lime. It's ideal for a hot summer's day or bringing a little sunshine to those long winter nights.
Ingredients
50ml white rum
25ml banana liqueur
A squeeze of fresh lime juice
1 ripe banana (sliced)
2 handfuls of crushed ice
1 dropper full of natural or citrus CBD oil
Lime wedges to garnish
Method
Put all the ingredients except the lime wedges into a blender and blitz until smooth.
Pour into a hurricane or other tall glass and garnish with lime wedges.
Sit back, relax, and enjoy!
CBD Pina Colada
This twist on a classic cocktail has everything you could wish for; creamy coconut, tangy pineapple, and soothing CBD. This recipe also works well as an alcohol-free beverage if you omit the white rum. Serve in a hurricane and garnish with pineapple slices and maraschino cherries for a luxury cocktail experience.
Ingredients
60ml white rum
60ml coconut cream
120ml pineapple juice
1 dropper full of natural or citrus CBD oil
Pineapple slices and maraschino cherries to garnish
Method
Place the rum, coconut cream, pineapple juice, and CBD oil in a blender and blitz until well mixed.
Serve in a hurricane or other tall glass with a pineapple and cherry garnish, if liked.
Put your feet up and enjoy this indulgent cocktail for a taste of tropical paradise, wherever you are.
Frozen CBD Margarita
For those who prefer their cocktails on the less sweet side, a frozen margarita could be the ideal CBD alcoholic drink. It is traditionally served in a special margarita glass with a salted rim. You can purchase a margarita glass salter if you enjoy these cocktails often, but it is just as easy to use a regular dish.
Ingredients
50ml tequila
25ml triple sec
25ml lime juice
15ml sugar syrup
A handful of ice
1 dropper full of natural or citrus CBD oil
Lime wedges and salt to garnish
Method
Place all ingredients except the lime wedges and salt in a blender and blitz until smooth.
Salt your glasses by cutting a slit in the middle of the lime wedges and running them around the rim of the glass. Pour some salt into a dish that's slightly wider than the glass and roll the rim around at a slight angle to coat the outside edge.
Pour the margarita into the glass, kick back, and enjoy!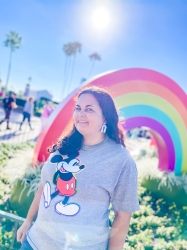 Latest posts by Krystal | Sunny Sweet Days
(see all)