Plan the Ultimate Beach Day
Is this your first time bringing your little one to the beach? Or maybe you've taken your children several times but you mostly remember them crying and complaining? There are a number of different things that you can do to make their beach experience a more memorable and enjoyable one, while, you won't be left feeling so stressed out. Here are 12 tips for a fantastic beach day with your family.
Create a Beach Check-list
Having a beach list of everything you need and checking it before you visit will make things easier. These are several of the items that you should consider bringing along with you:
● Multiple sunscreens (SPF 30 or higher)
● Talc-free baby powder (helps remove sand from your children's feet)
● Sunglasses, beach hats, coverups
● Enough towels for everyone
● Water bottles
● Snacks
● Zip Top bags (for storing small beach items and wet swimsuits)
● Baby wipes or antibacterial wipes
● Small first-aid kit
Choose a Beach that has Extras
Going to a beach that has multiple types of entertainment and recreational activities will take your beach experience to a whole new level. Some of the better beaches will have activities such as boat rides, bike and water sport rentals, nearby hiking trails, as well as tiny shops and beach restaurants. And if you're visiting at the right time, there may be live entertainment and music somewhere right on the beach.
Use the Ice Cream Shop or Treats as an Incentive
Hopefully, the beach that you choose has an ice cream shop or concessions nearby. You have something you can reward them with for good behavior throughout the day.
Go There Early Or Later
When you have younger children, the best times of the day to head to the beach are earlier in the morning or late afternoon. That way you aren't taking them during nap time when they're usually the crankiest. These are also good times because it's not so hot and the UV rays aren't nearly as intense.
Lather on the Sunscreen Before You Arrive
If your children are like most other kids, they probably can't wait to get into the water once
setting a foot on the beach. But that's usually when a lot of parents put sunscreen on
their children and allow them to immediately head out into the water.
The truth is, it takes about 15 minutes for their skin to soak in the sunscreen and for it to
work properly. To prevent them from standing around, apply good children's sunscreen on
them before you even start heading to the beach.
Set a Timer
When it comes to your children's skin, don't make the mistake of going cheap on sunscreen. You'll need to put sunscreen on your kiddos every other hour to keep them from getting sunburnt. So you don't forget, you can set a timer on your phone as a reminder.
Bring Lots of Shade
While you may not have used an umbrella or worried so much about the sun before you had
kids, now it's something that you must think about. Get your family a large umbrella to provide
shade from the sun. Bringing along a beach tent is another good idea if you have one and
encourage your kids to wear a hat.
Use a Mesh Beach Bag
Instead of bringing a beach bag that quickly fills with sand, how about using one that's more
sand-friendly? A mesh bag will make it easier for you to find your stuff and most of the sand will
slip right out.
Avoid Bringing Every Beach Toy You Own
You don't want to torture yourself by having your children bring every beach toy that you own.
Why? Because you can bet that you'll be the one carrying everything by the time you're headed
back to the car. Make it easier on yourself and bring only one or two beach toy items per child.
Pack Enough Bottled Water and Juice Boxes
Make sure that you bring plenty of water and juice with you for the day, and also keep reminding
your children to stay hydrated every half hour or so. If you have an extra cooler, it's a great idea
to leave one filled with bottled water in the car, that way you have something to drink on the way
home.
Don't Forget the Snacks
Make a beach experience that much sweeter by packing along some of your children's favorite
snacks. But don't forget to bring snacks that you enjoy as well! Sweet or salty snacks are a
no-brainer, but bring a few healthy and delicious snacks along as well.
Consider Having a Picnic on the Beach
When you're planning on staying at the beach for a better chunk of the day, you'll want to pack a
picnic to enjoy! Cut up your sandwiches into smaller portions before putting them into little
baggies. That way if your kids get sand on it, they don't waste a whole sandwich. Containers
with individual apartments for the other foods you bring are a good idea as well.

These are 12 tips to help you and your kids have a better beach visit, whether it's your first time or a return trip. Can you think of any other ways to make life easier for parents or kids during a beach vacation? Let us know!
Looking for more beach tips for you and the family? Check out these helpful links below.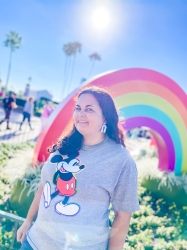 Latest posts by Krystal | Sunny Sweet Days
(see all)